Continued from post No.1241
Ozziebear's favourite hobby is cuddling. We all are aware of that as he didn't miss a chance to have a good cuddle with his number one "victim" Mark. Fluffy bear Ozzie was surprised to find a monument that honours both the cuteness of the teddy bear and his love for a good hug. The wonderful statue was found in Hyde Park. Ozziebear wanted to join in for a good group hug but the two fellows were pretty cold and lifeless.
It is rather typical for those humans that they tried to imitate this lovely statue only this time with a man and a woman. They have put it on display at St. Pancras Station. Pathetic copy!!!
Ozziebear's attempt to find himself someone to cuddle this day was rather unsuccessful.
At Least no one at Kensington Palace fancied to be hugged by a German tourist bear.
To be continued...
NOT CHRISTMASSY ENOUGH
russelltovey: Who feels christmassy???? I don't yet.. What can I do?? X
gemcairn: @russelltovey Ha! May throw this out on air... Would ya like to ask our listeners for some SOS Christmas vibe advice?
russelltovey: @gemcairn yes please!!!! X
russelltovey: Woman next to me on bus has shocking breath... x
AGayToRemember: Ooh! @russelltovey just walked past me on Princes street. I was quite restrained...I was going to say "OMG IT'S RUSSELL TOVEY!!" but I just smiled at him instead.
russelltovey: I'm in Hamleys... This xmas shit just got real y'all x
russelltovey: Where's the best chicken salad in Soho? X
TypicalChazz: @russelltovey I'm sure super-agent Andrew Weitz knows
russelltovey: @TypicalChazz I reckon so... Merry Xmas mate!! :-) x
thefattony: @mrchrissullivan omg did i miss you at cafe nero soho?
mrchrissullivan: @thefattony yeah! We waved like saddos!
thefattony: @mrchrissullivan im really pissed off now SORRY BABE X i couldn't see who it was xxx
mrchrissullivan: @thefattony that's ok mr! We are in rupees st now- where's you?
thefattony: @mrchrissullivan I'm coming into town at 10.30 if you're gonna still be around
mrchrissullivan: I'm heading off now Mr & Russ is heading there though xx
russelltovey: Tonight I have gone commado for Xmas x
Tom_in_Oz_: @russelltovey Toves ONCE AGAIN when are you gonna use a spell checker I am sure the app is pretty much free!!???
KirstnMichelle_: I appreciated @russelltovey in doctor who but after watching Being Human I can say he's one of my favorite actors now
russelltovey: @KirstnMichelle_ ah thanks x
DanBuckley1989: @russelltovey seen u out. You didn't LOOK commando. #enjoythefreedom :) x
from
@Confidential_CC
@Tom_in_Oz_
@AWOLTom

&

@RussTov_Fansite
Wishing you a very Merry Christmas from Oz.
I hope you have a very Happy Christmas. May 2012 be filled with happiness, good fortune, good health, and prosperity - Tom in Oz.
kentonallen:
@Confidential_CC
And to you and yours!
misterhsk:
@Confidential_CC bless bless x
Confidential_CC: @misterhsk do you Glaswegians actually do Xmas...?
misterhsk: @Confidential_CC haha! Yes. I personally don't but a lot of my fellow Weegies do x
Bennielawrence: @RussTov_FanSite thats lovely thank you have a great festive season and an amazing 2012 xx
fenton-stevens: @Confidential_CC thanks. And to you too x
FoxyLorri64:
@Tom_In_Oz_ That's so cool Tom, or should I say hot!!!! Merry Christmas to you & your family xxxx
alidanbrooks: @Tom_In_Oz_ Merry Christmas to you and yours xxx
IanAFletcher: @Tom_In_Oz_ cheers. And the same to u!
angloirishgal: @Tom_In_Oz_ Wishing you all a wonderful Christmas wherever you may be xx
gestaltrose: @Confidential_CC Sweet, I love it!
Brendan_Surrey: @Confidential_CC Thanks Tom. Happy Almost Xmas :o) x Advent calendar for you twitpic.com/7w6sit
HRWright: Hmmm...no hangover? Or still a bit pissed? Hard to tell.
Confidential_CC: @HRWright simple sobriety test : how many fingers am I holding up?
HRWright: @Confidential_CC 11?
Confidential_CC: @HRWright pass - close enough!
NeatFreak_: @RussTov_FanSite Awww!! Merry Christmas to you & yours too, Tom! Nollaig shona duit. xxx
valeriemeachum: @RussTov_FanSite Hee! Merry Christmas to you too!
jo_ramsay73: @RussTov_FanSite Thanks Tom, merry christmas to you and your lovely family too x
kinkyclawz: @Tom_In_Oz_ Have a Merry Christmas and a Happy New Year!
depecherox:
Have a happy hobbit christmas @Tom_In_Oz_
xxx
MancVamp: Wishing you both a FAB hannukah and Christmas respectively - @russelltovey and @AWOLTom and a hugely successful New Year both. Love Manc x
thejonboyce: @RussTov_FanSite you too x
IanOTimelord: @Tom_In_Oz_ Lovely pic!
joooos1: @Tom_In_Oz_ Merry Christmas to you too Tom!
Lionesskeeper: @RussTov_FanSite Merry Christmas to you too Tom :D
MarkMMerrett: @Tom_In_Oz_ @tmarkstahler I slept in, morning Tommy :-) just going to have a shower be right back.
Tom_In_Oz_: @MarkMMerrett @tmarkstahler morning Mark – Bubs, just had visions a few seconds back before you went to shower of people at your house having a yelling session
MarkMMerrett: @Tom_In_Oz_ @tmarkstahler back, problems with the heating!
Tom_In_Oz_: @MarkMMerrett @tmarkstahler you didn't answer my tweet about my vision it was very worrying here for 3-4 seconds - Lady was a bit upset!
MarkMMerrett: @Tom_In_Oz_ @tmarkstahler yes, we had a bit of yelling over the heating but all fixed now and Lady's happy!
Tom_In_Oz_: @MarkMMerrett @tmarkstahler well glad it's sorted was a very strong vision and contained *naughty grown-up words*
MarkMMerrett: @Tom_In_Oz_ @tmarkstahler we can swear at each other and have it mean nothing in my family, this was caused by dad's laziness to call the heating guy!
rudehamster: @Tom_In_Oz_ @TMarkstahler @MarkMMerrett Merry Christmas from Hamsterland
Tom_In_Oz_: @rudehamster @TMarkstahler @MarkMMerrett Andrew, shouldn't you be living in Hamste(r)d Heath ???
Merry Xmas 2011 everyone. Here is a free Tovey screensaver.
Bennielawrence: @RussTov_FanSite love that wouldn't mind one of me for Christmas lol xx
StevenWilson00: @RussTov_FanSite @Tom_In_Oz_ thanks for the screen saver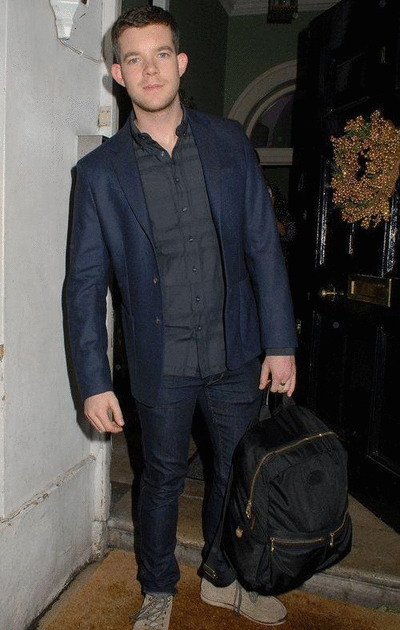 'PIRATES! BAND OF MISFITS'
Pete Lord head of Aardman studios drew the fabulous Pirate Captain picture above just for this blog.
The Aardman studios are still adding last minute touches to the Pirates movie but some cast snaps are slowly being released. Below you can see Russell Tovey's character the albino pirate waving from beside the Captain played by Hugh Grant.
December 21, 2011
http://www.creativitymedia.co.uk
Sound Post Production Company
On this final week before the Christmas break, we've been mixing Tower Block in England's only Dolby Premier Certified dub stage, the Richard Attenborough Theatre at Twickenham Film Studios. The film, which we are also co-producing, is set within a condemned housing estate in east London and features Sheridan Smith, Jack O'Connell, Russell Tovey and Ralph Brown. The film is directed by Ronnie Thompson and James Nunn, and is due to hit cinemas next year.
Assaulted but not Peppered
russelltovey: 5th night in a row with a diet of banana, green stuff and vodka tonic... This is my Xmas detox ladies and gents... Blam! X
Jon_Bryce_UK:
@russelltovey - Rus plz RT this......night out in Chelmsford.....grabbing a kebab outside the legendary Mrs Cod
russelltovey: Just been singing along to old school saltn'pepper.. Let's talk about sex... God it made me happy! X

Tom_In_Oz_: @russelltovey but Russ it's spelt "Salt-n-Pepa." They are in your YouTube "Sex Bomb" video where they do a bit of rapping!
Below: Press play to see the very sexy Mr. Tovey.
Below: Click trend map to enlarge. Mr @russelltovey and @RussTov_FanSite are trending on Twitter all because of the Sherlock TV series and @Wolfie_Rankin's online paper is trending on Tovey's name!