Countrysides, Radio 4, preview
Gillian Reynolds is impressed by the boldness of Anita Sullivan's play about life in the country since the Hunting Bill.
http://www.telegraph.co.uk/
By Gillian Reynolds 15 Apr 2011
Anita Sullivan's play Countrysides explores what's happening in the countryside in response to the the Hunting Bill. She's been researching it for four years, talking to hunt monitors, hunt saboteurs, animal welfare organisations, police, hunt staff and supporters, falconers, terrier men, vets and farmers.
It's about two men who discover a fragile human connection. Tim McInnerny plays the hunt master, Russell Tovey, the anti-hunt protestor.
It's interesting to remember that when Radio 2 did its last set of new Radio Ballads, the one on fox hunting had great problems in finding pro-hunting speakers.
Considering this is going out right in the middle of the two episodes of the new Classic Serial, Jorrocks Jaunts and Jollities, as merry a set of hunting scenes as you could imagine, it's maybe there as balance but, from the countrymen who I know who still ride out, it could be a reflection of how often the law is being ignored.
Countrysides airs on Wednesday 27 April on Radio 4 at 2.15pm
The latest calculation by the hunting lobby is that 300 MPs are pro-repeal while the anti-hunting lobby has 280 to 290 supporters in the Commons.
Above: Russell Tovey Re-Tweets Tom who Re-Tweets Russell…Confused? – I know I am!!
Click picture above to enlarge!
russelltovey: Been in a studio all day recording more 'Mike the Knight' for ceebeebies... Then visited the studio of Annie Kevans which is awesome x
Tom_In_Oz_: @russelltovey we have missed you, all around the world x
DomCarver: @russelltovey When will Mike The Knight be broadcast so I can sit and watch it with the boy? How's the Him & Her filming going?
russelltovey: @DomCarver September/October this year and Him & Her second series starts September too!! You a convert now?? :-)
russell tovey: @DomCarver and it's going good thanks!!! X
DomCarver: @russelltovey Yeah, you were right it did grow on me. Now you just have to convince @SusieCarver - good luck with that ;-)
DomCarver: @Tom_In_Oz_ :-)
russelltovey: This is cool right? Francis Upritchard sketch called 'Nuzzling Monkey's x
kylelehane: @russelltovey looks like a drawing by my 3 year old cousin:)
RobertCMorin: @russelltovey it looks a lot like a ring that someone would put around there... um... you know.. oh, never mind. My mind's just in the gutter
Tom_In_Oz_: @russelltovey If you look closely at Nuzzling Monkey pic this is what I found at bottom area...hidden message.
russelltovey: What about this one 'Goblet Head' by Upritchard? X
Tom_In_Oz_: @russelltovey Looks like you have fallen for HER simple NZ charm - http://www.saatchi-gallery.co.uk/artists/francis_upritchard.htm
Mavro_Arni: @Tom_In_Oz_ I clicked your link - I like the faux canopic jars.
Tom_In_Oz_: @Mavro_Arni makes you appreciate your own mummy even more x
Mavro_Arni: @Tom_In_Oz_ It's a pyramid scam, but the gallery is in de-Nile.
Tom_In_Oz_: @Mavro_Arni Yes there is a raft of issues because people are not willing to pay the exorbitant entrance pharaohs x
russelltovey: this Is the inspiration for this masterpiece by David Brian Smith x
boydhilton: @russelltovey I really like that. Can I have it please? x
----------------------------------------------
You may be wondering why is Boy George here on the Tovey blog? Simple answer: George is a friend of Russell Tovey and he also happens to follow @Tom_In_Oz_ (me) on Twitter. He has been a supporter of this blog for a long while. George doesn't really need much in the way of promotion but I asked him if I could put on some of his private family photos on the blog and he graciously agreed.
Some preloved Wikipedia information about Boy George:
Boy George (born George Alan O'Dowd on 14 June 1961) is a British singer-songwriter who was part of the English New Romantic movement which emerged in the early 1980s. He helped give androgyny an international stage with the success of Culture Club during the 1980s. His music is often classified as blue-eyed soul, which is influenced by rhythm and blues and reggae. He also founded and was lead singer of Jesus Loves You during the period 1989–1992. Being involved in many activities (among them song writing, DJing, writing books, designing clothes and photography). He was a DJ before he was a singer and still works tirelessly at being a DJ in various international venues to this day. He constantly reminds people his DJing led to his singing career not the other way round.
Boy George doing the music at Siobhan's 7th birthday, his first ever DJ gig! Love the 70s top!!
George's mum with Elton John. Legendary!
George's mum with Julie Walters & Britt Ekland.
----------------------------------------------
PHOTO PROOFS
Tom_In_Oz_: @BoyGeorge COOOO-EEEE George am I allowed to use any of your family pics on the Tovey blog??
BoyGeorge: @Tom_In_Oz_ Yes! x
Tom_In_Oz_: @BoyGeorge thank you my man xx or boy in your case x
MargMolly: @BoyGeorge @Tom_In_Oz_ George you have made an old man very happy!! Tom will love you forever but not as much as he loves @russelltovey xx
Mavro_Arni: @Tom_In_Oz_ Uber cool, Boy George!
davidbaines1: @Tom_In_Oz_ Boy George just tweeted you. Nice.
Tom_In_Oz_: @MargMolly @BoyGeorge @russelltovey Marg leave off with the old. I am 4yrs older than Boy George & am still a working DJ + vice principal. x
drunkkath: @Tom_In_Oz_ @MargMolly had such a huge crush on #boygeorge in #cultureclub days! Even managed to get autograph!
MargMolly: @drunkkath @Tom_In_Oz_ He was (and still is) VERY cute xx
PeteLordAardman: Hoorah and hip-hooray. Back in the old viewing theatre, seeing yesterday's shots.
Tom_In_Oz_: @PeteLordAardman after tweeting 2 u about my g granddad's 2 naval ships I got sent spam by them. Talk about ya modern day pirate ships!! LOL
PeteLordAardman: @Tom_In_Oz_ yes, me too. When those swabs get their hooks in you....
Tom_In_Oz_: @PeteLordAardman really like both ships. I was lucky 2 have private guided tours of both HMS Warrior & HMS Trincomalee. Seafaring is a family trait - not so much the pirating!
PeteLordAardman: Thank Heavens Liz sent me a box of Maltesers. They're keeping me going between set visits.
Tom_In_Oz_: @PeteLordAardman choc coated canon balls x
PeteLordAardman: @Tom_In_Oz_ Both sweet and deadly.
Tom_In_Oz_: @SineadKeenan Many thanks for letting the fans know about OZ TV times for Being Human - ur other half is so slack and forgets his fan base in Oz! xxx
Below: a variety of head shots of Russell Tovey at the Hurly Burly show March 2011 London.
Another PINK pilgrim:
RealMitchell1: @Tom_In_Oz_ @sineadkeenan just been to the pink house at Totterdown Bristol + gave ceremonial cupcake to new owner. Was invited over the threshold.
Tom_In_Oz_: @RealMitchell1 @sineadkeenan amazing - when I did the visit I was scrutinized by the whole street including garage workers next door x
RealMitchell1: @Tom_In_Oz_ Please tell the blog readers I'm not really mad. It's just a hobby. Honest. :D xx
GINGER JOKE OF THE DAY
Tom_In_Oz_: @davidbaines1 @Stef_Han catch phrases are the new social phenomenon sweeping twitter - wanna play?
davidbaines1: @Tom_In_Oz_ @stef_han Serious? Fair one....
Tom_In_Oz_: @davidbaines1 @stef_han Gingers are "the new black!"
davidbaines1: @Tom_In_Oz_ @stef_han What? Are they ostracised and not allowed to sit with better folk on the bus?
Tom_In_Oz_: @davidbaines1 @stef_han Haha! In Oz because the gingers' white skin is luminescent they are tied 2 the front of the bus & used 4 headlights...x
davidbaines1: @Tom_In_Oz_ @stef_han Glowing skin? God the British fingers have skin like a humpback whale!
Stef_Han: @davidbaines1 @tom_in_oz_ British people should moisturise their hands more often then.
Tom_In_Oz_: @Stef_Han @davidbaines1 Yessum, there's nothing worse than being probed by a fish fingered Brit !
James Fleet has a date in Oz!
Tom_In_Oz_: @JamesaFleet it's your episode on Oz TV next week Dadio Sands...Friday night 8:30 ABC2 national carrier...just saw the "Next Week" previews!
JamesaFleet: @Tom_In_Oz_ Oh crikey Tombo, write in on the calendar.
JamesaFleet: @Tom_In_Oz_ 'it' on the calendar, sorry.
Tom_In_Oz_: @JamesaFleet 2 glasses of red and we can't type or shpellt...! *hic*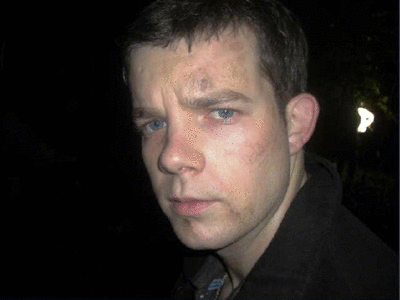 It's time to be a newt in Edinburgh
marcuswhitney1: It's Friday and I'm off to Edinburgh for the weekend, haggis, and whisky here I come!, anyone know of any nice places to visit?
Tom_In_Oz_: @marcuswhitney1 The White Heart Inn is me fave place http://www.undiscoveredscotland.co.uk/edinburgh/pubguide/whitehartinn.html
marcuswhitney1: @Tom_In_Oz_ will give it a go!
Tom_In_Oz_: @marcuswhitney1 oldest pub in town and maybe Scotland - all the best have relaxing time mate - Ozzie barman too!!
-one day later-
marcuswhitney: @Tom_In_Oz_ I'm here!
Tom_In_Oz_: @marcuswhitney1 OMG and you're still sober enough to tweet @russelltovey will be amazed - as am I!
russelltovey: RT
@PeterTatchell:
"Kiss-In" to protest pub ban on gay kisses, 7pm tonight John Snow pub,39 Broadwick St London W1 http://conta.cc/gOS2kv
blakeharrison23: All done on him & her, had a great time. Sure all the episodes will be brilliant!
russelltovey: @blakeharrison23 :-) always a dream x
russelltovey: @ThePeebs is this a copy or the same one? You are a talented man! X
ThePeebs: @russelltovey I take snapshots of them unsinged, getting signed, being held Looks better on Facebook Galleries though! LOL!
rudehamster: @russelltovey Just watched Portrait of a Princess, Russell. Absolutely excellent! :-)
russelltovey: @rudehamster spread the word! :-) x
russelltovey: youtu.be/4r7wHMg5Yjg so funny! X
sugartoes: Might spend birthday Amazon gift certificate on Seasons 1 & 2 of Being Human. @russelltovey & @SineadKeenan on my tv anytime. A good plan.
russelltovey: @sugartoes an amazing plan!! X
A TALE OF TWO HUMANS:
Matt's TV Week in Review
http://www.tvguide.com/
by Matt Roush
Apr 15, 2011
In one of the oddest juxtapositions ever, BBC America's Being Human aired its terrific third-season finale last weekend, mere days before Syfy's Americanized version wrapped its first season. I understand this is a business, so will try not to second-guess the British producers' decision to sell U.S. rights while the original, and far superior, series is still in production. But did they really have to air simultaneously — as if to beg unflattering comparisons regarding the Canadian-produced interloper? I'm not surprised Being Human is a success for Syfy; it's a great premise, borrowing so much from the best of the original while introducing a few tweaks of its own. But it still feels like "deja boo" to me — and I just can't warm up to this cast. Especially the pouty, shrill Meaghan Rath as Sally the whiny ghost. (The only time I warmed up to her was when she went all dead-eyed psycho-zombie after her encounter with the exorcist.) Sam Huntington's puppy-doggish werewolf Josh mugs like he's in a sitcom, and only Sam Witwer as the tormented vamp Aidan (I keep wanting to call him Mitchell) brings the necessary brooding intensity. Aidan definitely gets the best storylines — including the climactic throwdown showdown with his nemesis Bishop (Mark Pellegrino), who (unlike in the original, where the wolf did the deed) is beheaded by Aidan, who later gets a call from the Dutch master proclaiming our hero as the new vampire leader.

"We should get cable," Aidan tells his supernatural roomies after a long, hard and bloody day. May I suggest digital cable, so as to have access to BBC America — where the "real" (IMO) Being Human went out with a tragic flourish. This one has teeth, if you will. And terrific performances from Aidan Turner, Russell Tovey and Lorena Crichlow.

Now, the BBC lowdown: The love connection between Mitchell (vamp) and Annie (ghost) has fueled much of this season, and the revelation that Mitchell is the ghoul behind the subway massacre drives a wedge between him, Annie and werewolf George. Emotions run high as Annie high-tails it to purgatory only to learn that subway victim Lia made up the "wolf-shaped bullet" prophecy to punish Mitchell. "What you've really got to worry about is the self-fulfilling prophecy," Lia tells a worried Annie. True enough, as a despondent Mitchell decides he no longer needs Herrick's secret to resurrection and kills his recruiter at sunrise. Mitchell then begs his estranged buddy George to kill him — prompting a proper chewing-out from Nina: "Vampires and their indescribable bull----. You can't do it yourself because it won't provide enough anguish!" Again, truth. Because it is INTENSE in the house as Mitchell provokes George to fits of grief, rage and remorse while Annie weeps and we're thisclose to George plunging the stake into his best friend when sinister ancient vamp Windham shows up to take control. "This martyrdom isn't an option," he says, declaring Mitchell will now be his attack dog. Which proves to be the trigger for George to turn Mitchell to ash: "I'm doing this because I love you," says George, who then turns to big-bad Windham: "I think you've got a fight on your hands."

I know which version of Being Human I'm more eager to see next year. Not sure I can do both again. I'm only human.
A little treat for the ladies!
Here is a behind the scenes clip explaining the TV show Aidan Turner made during some down-time from Being Human. Director Colin Teague from Being Human got Aidan involved in "Resonance" in 2010.
Following the "Resonance" video is a clip explaining The Hobbit movie being shot in New Zealand. Aidan gets to play Kili the dwarf.
A LITTLE PIECE OF GREEN – ROBSON GREEN
extreme_fishing: Writing ideas for next series of XF. I'm after Funny quotes re fishing, travelling, winning and losing..help please
Tom_In_Oz_: @extreme_fishing Fishing is like making love................Oh wait a minute! No it's not..........Nothing is as good as fishing!
extreme_fishing: @Tom_In_Oz_ Nice X
Tom_In_Oz_: @extreme_fishing consider it sold....x
extreme_fishing: Fishing is a jerk at one end of the line waiting for a jerk at the other.....X
MargMolly: @extreme_fishing a bit like Tweeting then ! x
MatthewCainC4: Reading A Wedding Song, a sequence of poems by Matthew Curry inspired by the Hebrew Song of Songs. A lovely way to pass a Friday afternoon!
Foxfontaine: @MatthewCainC4 I prefer drinking beer and masturbating personally.
edwardclarke: @Tom_In_Oz_ Always up for a bit of @RussellTovey !
Tom_In_Oz_: @edwardclarke @RussellTovey and when you say "up" you do mean what I think you mean??? *grins*
edwardclarke: @Tom_In_Oz_ : - ) x
Tom_In_Oz_: It's Friday night in the UK & Twitter's gone quiet while the @russelltovey is out liquoring up. Have 2 wait until midnight 4 drunk tweets xx
Mavro_Arni: @Tom_In_Oz_ Oh I'm sure @russelltovey is religiously doing curls, laps, etc ... you know, at the gym. He's very sporty, after all.
Tom_In_Oz_: @Mavro_Arni U'd be surprised how gym membership went up after @russelltovey joined but the men only seem 2 get as far as the change rooms. x
The very picture of Avatar health
jonesyinc1: @IanAFletcher love that pic BTW
IanAFletcher: @jonesyinc1 thnx.. @Tom_In_Oz_ neatened it up for me.
jonesyinc1: @IanAFletcher @tom_in_oz_ he's a good 'un, my dear old dad!
IanAFletcher: @jonesyinc1 lol @tom_in_oz_
IanAFletcher: I feel sick post lunch! Bleurgh...
Tom_In_Oz_: @IanAFletcher you still look good though...your profile pic looks like the pic of health lol
IanAFletcher: @Tom_In_Oz_ flattery will get you everywhere!
Tom_In_Oz_: @IanAFletcher BTW I also fixed an avatar for Charlie Condou recently it's on the blog. He looks smashing with a light tan 'n' all.
KnaveoG: When the albatross flies backwards, you know it's getting windy.
Tom_In_Oz_: @KnaveoG no if an albatross eats baked beans the chances are it'll get windy...
KnaveoG: @Tom_In_Oz_ I should have guessed you'd take that route, your pupil's influence I guess.
Tom_In_Oz_: @KnaveoG yes my pupils - let's blame them !
KnaveoG: @Tom_In_Oz_ If I wore glasses I would lower them on my nose and look at you for 4 and a half seconds. you know what that means? Don't you?
Tom_In_Oz_: @KnaveoG That you secretly love me, for what I am, not who I am?
KnaveoG: @Tom_In_Oz_ Dammit I mean 5 and a half seconds - Damn the changes in the subtle use of glasses code - or is sarky disbelief 3 and a half now
Tom_In_Oz_: @KnaveoG yes sarky is 3.5 and disdain is the new 6 but must be accompanied with eye brow raised...don't you keep up with the code book?
'Being Human' will be 'reinvented', says creator - TV News
April 11, 2011
http://www.nme.com/
Toby Whithouse speaks about supernatural drama
Being Human creator Toby Whithouse has said that the show will be "reinvented" on its return next year.

BBC Three's hit supernatural flatshare drama has been confirmed as coming back for a fourth series, but without major character Mitchell, played by Aidan Turner.

His vampire character was staked in the series finale, since Turner has been cast in Peter Jackson's The Hobbit.

Whithouse told NME about the challenges faced to the format of the show at the weekend's Kapow Comic Con in London. "We're reinventing it to an extent, it will have to be a different animal in some ways," he said.

Earlier on at the panel session Whithouse explained that producers had been surprised to hang on to Turner for as long as they did. He said: "When you have someone who's that talented, and who looks like that, you know that you're not going to keep hold of them forever... there was no ill feeling on either side."

He also hinted that Lenora Crichlow's ghost character Annie could be taking more of a central role next year. "It's been mentioned a few times about just how powerful Annie is," he said. "We're going to be exploring that."