The Press visit the set of
RoxRobin: Off to see some beauts... @russelltovey and @Solemani #bbc3 #him&her
Tom_In_Oz_: @RoxRobin @russelltovey @Solemani Say hi to Russ & Sezza from the 120,000 Tovey blog followers for me. Business on the blog is brisk xxx
RoxRobin: @Tom_In_Oz_ I will do...& u copied them in so I'm sure they hear u loud and clear! :-)
Tom_In_Oz_: @RoxRobin Thanks & @BoydHilton is supposed 2 b tweeting the blog a few messages when he gets there soon - The blog readers love all the goss
chris_allen: Lovely chat with @solemani. Now sitting in the sun awaiting @russelltovey #hardlife
Tom_In_Oz_: @boydhilton COOO-EEEE Boyd, are you at the Him & Her press day?
boydhilton: @Tom_In_Oz_ no, I'm going towards the end of filming in a few weeks' time
Tom_In_Oz_: @boydhilton OK I've had some stuff coming in from a variety of people so I wasn't sure. Date 2 remember 28-4-2011 blog is 1 year old xxxx
chris_allen: Skanky kitchen fun: @morganjeffery interrogates @russelltovey for Him & Her
(See following picture sent by Chris)
Lisa_Moranio: @chris_allen Tell Russell Tovey I'll give his surfaces a good wipe any time.
russelltovy: RT @BexyCollins: @russelltovey my baby nephew has a brain tumour and we are in need of items to auction for @dicksontrust please help thank you x
Wednesday 27th April 2011 at 2:15pm
you have a date with
Russell Tovey
Copy of UK Radio Times courtesy of @MargMolly
The following information may be enlarged by clicking the picture.
The following artwork of Russell Tovey from the UK Radio Times is courtesy of Jo Fallon
Tom_In_Oz_: @Jo_fallon at the same time u sent the Radio Times pic to @russelltovey I was putting it on the blog I hope it's OK?
Jo_fallon: @Tom_In_Oz_ Of course, please feel free! If you could just give me a credit and link to my site, www.jofallon.co.uk that'd be great :)
Tom_In_Oz_: @Jo_fallon sure thing my sweet and much appreciated....xxx Hope to do business again with ya xxxx
Jo_fallon: @Tom_In_Oz_ Thanks very much! He was supposed to look quite sad for the foxes, so apologies he's not his usual smiley, wrinkle-free self! ;)
russelltovey: @Jo_fallon ha ha ha... I need Botox x
Jo_fallon: @russelltovey Ha! Apologies, I can be over enthusiastic with the pencils sometimes! I'm sure most people wouldn't agree that you need it :)
russelltovey: @Jo_fallon did you draw it? It's great!! Ha ha xx thank you x
DeepFieldPhoto: @russelltovey good drawing, but they definitely took liberties with adding those lines!
Mavro_Arni: @russelltovey That would be the rough morning after a hard day's night.
JannineR: @russelltovey is your right tab really lower than your left?! ;-)
russelltovey: @JannineR I didn't think so but yes x
russelltovey: Myself and Tim McInnerny preparing for the recording of Radio 4 play 'Countrysides' transmitted 27th April at 2.15pm x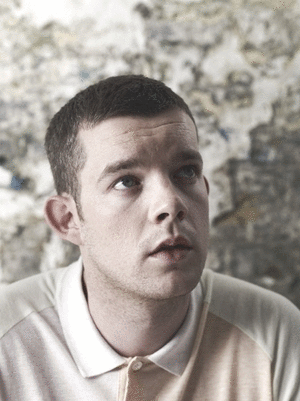 starfishncoffee: A George Sands Doll.It's...I'm speechless @russelltovey #beinghuman
russelltovey: @starfishncoffee ha ha ha
scribe_diatribe: @russelltovey where's your willy?
russelltovey: @scribe_diatribe safely cupped away x
SEE SINEAD KEENAN AND RUSSELL TOVEY LIKE YOU HAVE NEVER SEEN THEM BEFORE - AND PROBABLY NEVER WILL AGAIN!
Credit goes to contributor @Edward_George_
drunkkath: @Tom_In_Oz_ you think that video is odd, lol! This is much more bizarre than that!http://tinyurl.com/3jx6ako
sage_from_oz: @drunkkath @Tom_In_Oz_ You Brits are just mad. Mad I say. Is it the weather that causes this kind of oddness?
Tom_In_Oz_: @sage_from_oz @drunkkath Agree it's their weather...why can't they have cyclones and floods and earthquakes like normal people????
---------------------------------------------------------
Below: Russell is currently shooting the second season of Him & Her which will be showm in the UK sometime around Septemebr 2011.
camdengiles:
A legendary 24hs. Too much for one tweet. Highlights: Gorgeous roast, pass the parcel, Toby Ziegler, dancing, oreo cupcakes, my friends.
russelltovey: @camdengiles Toby Ziegler??? Love his work x
camdengiles: @russelltovey seriously...I have to tell you about last night sometime soon. What a legend. x
Tom_In_Oz_: There are some days when you just don't wanna be witty, urbane, charming or attention-seeking....luckily for me that's not the case today x
Mavro_Arni: @Tom_In_Oz_ That started my work-day off with a good chuckle.
Tom_In_Oz_: @Mavro_Arni I am none of those really...honest...well maybe just a bit charming but meh for the others.
Anita Zabludowicz is one of Britain's most esteemed art patrons, a trustee of Tate Gallery.

Monday 04 April 2011

We managed to raise £85K for Camden Arts Centre in my patented '24 Hour Auction' where all my friends were asked to empty out their 'art store cupboards' and donate towards the auction. Everyone's generosity totally amazed me, with donations coming from Alexandre De Cunha, Amir Shariat, Stefan Ratibor and Gagosian, Rob Diament and Carl Freedman, Thomas Dane and Francois Chantala, Nicky Verber and Michael Dean. We were out in full support for our lovely Jenni Lomax at Camden Arts Centre.

Above Left to Right:

Lauren Prakke, Rob Diament, Russell Tovey,

Anita Zabludowicz,

Stephan Ratibor and Tiffany.
-------------------------------------------------



Being Human UK – Toby Whithouse confirms
"Mitchell Isn't Coming Back"
The following 3 minute video definitely confirms that Aidan Turner is not coming back to reprise his role of Mitchell in Being Human. But there is a possibility Craig Roberts (from Becoming Human) will be coming on-board for season four.
Press play:
w/Russell Tovey & Alfie Field
by Tom in Oz 18-4-2011
Mike the Knight is a digital cartoon series that is in current production. The lead voice of Mike is supplied by 13 year old Alfie Field who has appeared in Dr Who amongst other UK shows. Additional voice talent includes Russell Tovey. The series of books was originally Canadian and aimed at preschoolers (mainly boys). As tweeted by Russell, recently he said he was still working on completing voiceover sessions via the CBeebie team.
Mike the Knight has been presold to various territories. The medieval preschool series has been snapped up by ABC Australia, SVT Sweden, DRTV Denmark and NRK in Norway, bringing the total number of presales to seven. The CGI series, co-produced with Corus Entertainment's Nelvana Studio, will premiere on Treehouse in Canada this September, TF1 in France in October and CBeebies in the UK in November. The four new territories are due to launch the series shortly after. HIT Entertainment said: "It is testament to the strength of Mike the Knight that so many broadcasters have picked up the series before we've had an episode to show them.
Toy company Character Group has strengthened its "armour" with a deal to sell toys based on a new children's TV series. The Oldham-based group, through its trading subsidiary Character Options, has been appointed as the UK and Ireland licensee for Mike the Knight, which will be shown on BBC station CBeebies in the autumn. Character Options also holds the UK rights for HIT brands Bob the Builder and Fireman Sam. "Everyone at HIT is hugely excited about Mike the Knight and, with Character now on board, we are confident that they will conjure up a spellbinding product range for this adventurous new series."
Nelvana Enterprises owns the broadcast and home entertainment rights for Mike the Knight in Latin America and France, including broadcast rights for the United States. HIT Entertainment holds the CG series' rights in all other territories, globally. Character Options is the UK/Ireland master toy licensee.
"We are pleased to enrich our strong preschool schedule with Mike the Knight. This new series will add value and keep building our positive ratings for this young target," Yann Labasque, Director of Youth Programs, TF1, commented.
Mike the knight, in Mike the Knight, will encounter trolls, dragons, and all other sorts of magic and mysticism that goes with a day in the life of a medieval preschooler. Mike hopes to grow up big and strong like his father, the King, and so sets off every day with his companion dragons, Squirt and Sparkie. The boy's sister Evie is eager to help as well -- although her status as a wizard-in-training usually does more harm than help. Mike the Knight focuses on self-discovery, personal responsibility, and other keynotes integral to youth progress and adventure.
A CAPTION ON A PICTURE IS WORTH A THOUSAND TWEETS
marcuswhitney1: The walking dead, channel 5 is fantastic,,, my dream job!
Tom_In_Oz_: @marcuswhitney1 sit stay calm don't salivate stop drooling be good
drunkkath: @Tom_In_Oz_ aww! lovely cast pic! see i do look at your blog! :-)
Tom_In_Oz_: @marcuswhitney1 btw just posted a pic on blog which has a lot of cast including you but lady in front unknown can ya help with a name please
drunkkath: @Tom_In_Oz_ @marcuswhitney1 prob in pub somewhere in scotland with pint in his hand?!
marcuswhitney1: @Tom_In_Oz_ that be Alison , make up!
Tom_In_Oz_: @marcuswhitney1 many thanks can now do caption xxxx It's a great pic BTW.
drunkkath: @marcuswhitney1 @Tom_In_Oz_ was i right? were you in the pub marcus?
marcuswhitney1: @drunkkath @tom_in_oz_ nope, back in the flat in Leeds , pasta , wine and the walking dead, on ch 5
Tom_In_Oz_: @marcuswhitney1 @drunkkath life is sweet when one is at home and has a red in hand! x (OMG that could be a double entendre)
depecherox: @Tom_In_Oz_ @marcuswhitney1 @drunkkath LOL
drunkkath: @Tom_In_Oz_ @marcuswhitney1 only if you have a dirty mind tom! lol!
Tom_In_Oz_: @drunkkath @marcuswhitney1 WHAT'S THAT KATH - I can't hear you I'm too busy with a red in my hand!
Being Human cast and crew L to R:
Sinead Keenan, Aidan Turner, Marcus Whitney, Lenora Crichlow, Russell Tovey and at front is Alison Webb one of Marcus Whitney's fabulous make-up crew.
Nominate Your Fave Russ Tovey Moments
Tom_In_Oz_: RUSSELL TOVEY POLL: Bloggers you have 2 hours to please send in your fave Tovey TV moment, film moment, play, radio play etc..am wanting to make a list. Yes I know it is a Sunday and most of you are out but for those at home please let me know?
xxxCorrixxx: @Tom_In_Oz_ "WHO WANTS SOME OF MY PLANT?!" and "remind me to gouge my brain out with a spoon "
Beth_Annie_: @Tom_In_Oz_ "who wants some of my chair!" Best Russell Tovey moment I can think of. Or the plant.
jwhedonaddict: @Tom_In_Oz_ Anytime he cries. Naked bum? The skinny jeans? The floral shirt?
sage_from_oz: @Tom_In_Oz_ Going to fight vampires with an eggbeater and a phone charger.
jwhedonaddict: @Tom_In_Oz_ Gayest ninja fight?
Mavro_Arni: @Tom_In_Oz_ Where Russ says "That was *pathetic*! Like we were a couple of gay ninjas..." (With the accompanying wrist action and half-hop)
imjustanerd: @Tom_In_Oz_ I loved that ep of Gavin and Stacey when Budgie and Uncle Bryn were dancing in the club. Random, I know, but it's my fave.
Tom_In_Oz_: @Tom_In_Oz_ Fave moment is end a ep1 s3 where Annie pours George a cuppa while he's crying because he thinks Mitchell has returned empty handed *sniff*
Tom_In_Oz_: @Tom_In_Oz_ Thank you Tom for your suggestion it has been duly processes in accordance of the terms and conditions x
Beth_Annie_: @Tom_In_Oz_ I don't know whether that's vain or hilarious... x
Tom_In_Oz_: @Beth_Annie_ Hill Hairy Arse of course!
Beth_Annie_: @Tom_In_Oz_ :D
jwhedonaddict: @Tom_In_Oz_ http://twitpic.com/4m041j
sage_from_oz: @jwhedonaddict @Tom_In_Oz_ I'll vote for this too. He does cry well. Can I vote twice?
Mavro_Arni: @jwhedonaddict @Tom_In_Oz_ Oh geez, every time I see a pic of Russell like that I think that some bastard's kicked a puppy.
jwhedonaddict: @Mavro_Arni @Tom_In_Oz_ He truly does bring it. :(
imjustanerd: @Tom_In_Oz_ I loved the 'skinny jeans, George?' moment in BH and that time in Ashes to Ashes when he actually wore skinny jeans. Good times.
Tom_In_Oz_: History Boys where they boys & staff all think Rudge has dipped out...& then there is the BIG REVEAL...another fave moment *no spoilers there lol*
Tom_In_Oz_: I also like watching Russ Tovey just goof off in Dialling Tone clip - makes it look effortless!
beinghumanfan: @Tom_In_Oz_ who wants some of my plant/chair, skinny jeans and the non-date in a gastro pub scene :) x
imjustanerd: @Tom_In_Oz_ Favourite #LittleDorrit moment - "All the time I was breaking my heart over her, she was breaking hers over you."
Beth_Annie_: @Tom_In_Oz_ the camp throwing away of the golf club in the Adams family episode. X
imjustanerd: @Tom_In_Oz_ Favourite #HistoryBoys moment - When Rudge said, "How do I define history? It's just one f*ckin' thing after another."
Tom_In_Oz_: Fave tiny moment when Nina asks George if he wants to have a hairy baby - the look on Russell's face just gets me when he says, "Yes I do."
Tom_In_Oz_: Fave cry moment #2 at end a season 1 of Him & Her where Russ cries while confessing he loves Becky (Sarah Soleamni)
jwhedonaddict: @Tom_In_Oz_ @Mavro_Arni if the dude even HINTS at tearing up and I'm gone and right there with him! Never fails.
Beth_Annie_: @Tom_In_Oz_ I'm noticing a pattern... a lot of tears.
JelenaTri1981: @Tom_In_Oz_ got to be 'I'm doing this because I love you', filling up just thinking about it!
sage_from_oz: @Beth_Annie_ @Tom_In_Oz_ He does tears well.
Tom_In_Oz_: Cry mo #3 when Amy Dorrit rejects John Chivery (Russ) on the river bank - talk about "cry me a river" - opening scene of ep had so much happiness!
Beth_Annie_: @sage_from_oz @Tom_In_Oz_ very well. It always makes me cry as well.
jwhedonaddict: @Tom_In_Oz_ I've never seen it but she sounds like an idiot! ;)
Tom_In_Oz_: @jwhedonaddict It's a story that makes me so mad because the hero is Chivery but the girl walks off with the wrong man...Amy Dope not Dorrit x
lovebeccy: @Tom_In_Oz_ I'm going to be bad and say any nude scene he did for Being Human! My mum also watches & her reactions are hilarious x
WhoGuru: @Tom_In_Oz_ I'd have to say when George and Nina realize they don't have to worry about changing together. :P hubba hubba
AWOLTom: @Tom_In_Oz_ Standout moment is when George locks himself in with Herrick & says the speech about humanity that ends "this proves it" - OMG!
hrd79: @Tom_In_Oz_ http://youtu.be/1TWIW2B_juY :)
MargMolly: @Tom_In_Oz_ Mine is "I only got up for a pee!!" from #beinghuman
Sandiwich11: @Tom_In_Oz_ Hmm, I don't really have one...maybe when Annie returns in 3.01
Bcgkelly: @Tom_In_Oz_ The part when he finds out he has passed the curse on to Nina. NO! NOT YOU.
Sandiwich11: @Tom_In_Oz_ hehe, I cry every time I see his reaction in that scene :( :)
davieboy123: @Tom_In_Oz_ hmm I loved season 3 where he was in the cage xx
joooos1: @Tom_In_Oz_ BH ep2 s1 George returns home to find Mitchell has invited neighbours. His face is a picture esp. when Mitchell says he only bites on full moon!
Hysteriaaaaa: @Tom_In_Oz_ 'It was a pigeon, and I killed it, with a shoe.'
talDEHboosh: @Tom_In_Oz_ definitely 'who wants some of my chair?' well I certainly do! ;D
krisq2: @Tom_In_Oz_ @russelltovey who the hell is this Tovey guy?
Tom_In_Oz_: @krisq2 @russelltovey what a sense of humour you have! He's the fat one in Gavin & Stacey!
KnaveoG: @Tom_In_Oz_ What the hell seeing as it was my idea. I'm going with "Not you. Don't let me have done this to you, not you." S2E1 walkway
gugibufugi: @Tom_In_Oz_ youtube.com/watch?v=jDWJVu…
gugibufugi: @davieboy123 @tom_in_oz_ George's reaction when Herrick tells him he killed Nina.
AustinFx4: @Tom_In_Oz_ finale of being human series 3
AustinFx4: @Tom_In_Oz_ I also like scene in Him & Her where he thinks he's alone to watch porn and becks, et al come back home. Priceless!
If you too would like to record your fave moment please contact me via twitter on @Tom_in_Oz_ or use the email address on the side of this web page and I will add you to the list.