tomedmunds: Hard but wonderful day's filming with @russelltovey & @Livvyloooo at the seaside. #magic
jaytay1or: Lovely working w/ @tomedmunds @russelltovey @jarredchristmas The waiter: a small part, but a vital one. Like the gall bladder #IsThisAJoke
fany6333: @russelltovey today's my b day!!! i hope i'm going to be happy today...but i think that is up to you :)
russelltovey: @fany6333 happy b day x
tomedmunds: I feel totally redundant today. Missing my Is This A Joke? team & my X Factor chats with the glorious @russelltovey & @jarredchristmas
russelltovey: @tomedmunds :-( we will always have twitter x
tomedmunds: @russelltovey I'd like to hope so... Really, it was SUCH a pleasure. You're brilliant & deserve every success that'll surely come your way X
russelltovey: @tomedmunds ah thanks mate x
CecileVanDijk: @tomedmunds Will miss you too! It was such a fun project to work on, wish I was there the whole shoot! @russelltovey @jarredchristmas
THE X
russelltovey: RT @RocknRollTroll: Watched the amazing trailer of the new Pirate film by Aardman directed by @PeteLordAardman.
russelltovey: RT @spam: Those DMs you got mentioning a bad blog about you? Phishing. We're resetting passwords. Send a DM to @spam if you see something new!
russelltovey: I'm working and missing the X Facta results... I'm dev'd out y'all x
whitchpath: @russelltovey all girls are through!
whitchpath: @russelltovey kitty through!!! wtf!!!
whitchpath: @russelltovey between nvibe and franky
russelltovey: @whitchpath wtf? Get the band out x
russelltovey: RT @GBarlowOffcial: This will be the last post before I choose 5 fans to follow! Retweet this and you may get a follow/tweet after the show! #TeamBarlow
Luci__Lu: @russelltovey That's not the real Gary, Russell. Official is spelt wrong. Thought I'd let you know :) xx
russelltovey: Nu vibe gone and I get that I retweeted a fake Gary Barlow account... I can't apologise enough, I feel seriously terrible... Gah x
russelltovey: BMX bandits? X
NEW BLOOD ON BEING HUMAN
GOODBYE RUSSELL & AIDAN
joooos1: Pic of new Being Human vampire....
Tom_In_Oz_: @joooos1 goodbye Russell and Aidan hello Michael and ????
joooos1: @Tom_In_Oz_ and Damian Maloney @damienmolony
Tom_In_Oz_: @joooos1 @damienmolony thanks JJJJJJOOOOOZ
THE RETURN OF
HIM
&
HER
Season two of the comedy Him & Her returns November 2011 in the UK.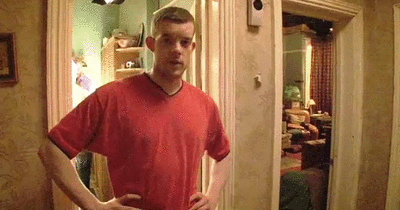 Above: Screen caps from the "behind the scenes trailer" for season two of Him & Her.
Below: Back in 2010 this is how Russell Tovey summed up his expectations for the first season.
X-TERMINATE
russelltovey: People are suggesting if @JKCorden and myself shagged our bastard child would be Craig Coulton... I kinda agree.. What a beautiful family x
Tom_In_Oz_: Erm, I don't have a Corden / Tovey baby snap - but I do have a Simon Cowell / Russell Tovey one...
Goslingsawagrin: @Tom_In_Oz_ @russelltovey that disgusting
MarkMMerrett: @Goslingsawagrin @Tom_In_Oz_ @russelltovey I have to agree with you mate!
russelltovey: Johnny... La gente esta muy loca... Wtf? X
russelltovey: Love this nelly Furtado remix!!! X
AllonsyAlonso19: @russelltovey I hope you like my twitter name ;) #ithinkitsprettyawesome
russelltovey: @AllonsyAlonso19 :-) x
russelltovey: Micha B is fuxking brilliant!!!!!!!!!!!!! That's the winner right there!!!!! X
Tom_In_Oz_: @russelltovey every time you say that they leave...kiss of death Tovey *RIP two shoes*
TMarkstahler: @Tom_In_Oz_ @russelltovey Evil... but true!!! ;-)
russelltovey: That Kitty needs to be put down x