russelltovey: RT @RoxRobin: Who has this weeks @heatworld magazine?? @boydhilton interview with @russelltovey & @solemani - Him & Her is back one week today! Whoop!!
elliottfranks: @russelltovey featured on the cover of the Independent tomorrow! Funny funny guy!
russelltovey: @elliottfranks what??? X
russelltovey: RT @bedders64: @russelltovey Him & her...next Tuesday on BBC 3...nice one Russ....x
GAZREID1970: @russelltovey you have made front page of the independent, just seen you on paper review on BBC news.
russelltovey: @GAZREID1970 is there a link? X
MatthewCainC4: Just spoken to my twin @russelltovey so far away in LA. I love my twin!
MatthewCainC4: Looking forward to the table we're hosting at the Terrence Higgins' Trust Supper Club. With an all-star cast!
russelltovey: @MatthewCainC4 I love my twin x
More domestic bliss from the odd couple of comedy
The lazy lovebirds of Him & Her are back. Gerard Gilbert on the anti-Gavin & Stacey
Wednesday, 26 October 2011
http://www.independent.co.uk/
I don't know whether I'm hungry or bored," says a young woman, leaning listlessly out of the window of a messy, down-at-heel rented bedroom. "I need a wee, but I can't be bothered," replies a young man lying on the bed eating his fifth choc-ice of the morning. Welcome (or welcome back) to the world of Steve and Becky, the title characters in Him & Her, the sitcom that deservedly won a record audience for a BBC3 sitcom debut when it was first screened last year.
The story (or non-story) of two love-birds that encompasses their friends and family, it's superficially reminiscent of an earlier BBC3 comedy hit, except that Him & Her could be called the anti-Gavin & Stacey. The title of Stefan Golaszewski's sitcom was originally "Young, Unemployed and Lazy", and in this form the characters of Steve and Becky (played by Russell Tovey and Sarah Solemani) never left the bedroom. The BBC suggested widening it out, and Golaszewski, a former president of the Cambridge Footlights, duly obliged by adding a hallway and a kitchen. Oh and a bathroom, where Steve and Becky regularly tend to their ablutions. Or as Steve sweetly says: "Becky does such dirty farts she has to wipe her arse afterwards."
But if all this sounds like puerile scatology, the tone of Him & Her is more Beckett's Vladimir and Estragon, or Pinter's The Caretaker. Or Jim Royle. "My original script was real anti-comedy stuff, and everyone I showed it to all said 'this is very interesting but it's never going to get made'," says Golaszewski. It was Kenton Allen, the veteran producer of the similarly house-bound The Royle Family, who recognised its worth (even if Allen's in-house script-reader reported back that it was the worst script she had ever read).
"When I first saw The Royle Family, I thought 'oh my God, that's exactly what British playwrights in the Sixties were trying to do'," says Golaszewski, who similarly finds mirth in life's minutiae. "I too was trying to get rid of the tropes of TV comedy as much as possible – this is what people are actually like and what your day is actually full of. And I think so many characters on telly are incredibly serious or say things with sentences that have no holes in them. Conversations are full of holes and dips and funny little moments... we communicate in subtext."
Gavin and Stacey's families are eccentric but essentially lovable, unlike Steve and Becky's, the latter's sister, the domineering, BNP-flirting Laura, who sees ghosts and whose marriage to the oafish thug Paul is subject to ever more elaborate plans, such as tying the beaks of birds with string and having them fly around as they make their vows. "Laura for me is just an amalgamation of everything that's wrong with the world," says Golaszewski. "She's a person who's been destroyed by the magazines she's read and rubbish she's heard."
Paul, in turn, has made the reluctant Steve his best man ("I've got three words for you... coke, whores and violence"), while Becky's dad is a bully and, in the returning series, Steve's mum has a new man in her life, Mike, who discusses "doing her". And then there's the upstairs neighbour, Dan, who looks like a cross between Rasputin and Blakey from On the Buses, but has neither man's social graces. The only question is, why do Steve and Becky put up with them?
"I find that I sometimes get in a conversation with someone and you know that they're wrong but you just agree with what they're saying," says Golaszewski. "It's so much easier and it's a kinder thing, and I always wanted Steve and Becky to be essentially kind people... I wanted them to be moral in traditional sense." That's the only sense of tradition you'll find in Him & Her.
'Him & Her' returns to BBC3 on Tuesday 1 November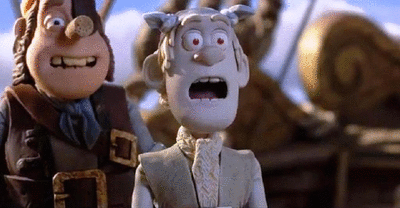 TRAILER OF "PIRATES"
THIS IS NOT ONE OF THE SHORT TEASERS AS PREVIOUS SEEN ON THE BLOG!
HIM & HER SEASON TWO
UK AIR DATE: 1-11-2011
Steve loves Becky and Becky loves Steve. They lie around all day, burp, fart and pick each other's noses, while friends and neighbours drift in and out. This is what happened in series one and it's much the same for series two. With one big twist…
'Becky's now moved in,' says Russell Tovey, who plays Steve. 'And there are bloody fairy lights everywhere and a box of Tampax. He's kind of semi-reluctant about the whole thing, but I think once she's in he's happy.'
As the gross-out sitcom Him & Her returns, TV Choicespeaks to the former Doctor Whostar Camille Coduri, who plays Shelly, the ditzy friend of Steve and Becky…
Steve's flat was disgusting last series, so with Becky moving in, do things improve?
No, there's even more crap on the floor – sticky sweets and dirty tissues. It's disease ridden, but brilliant.
Is it a bit disgusting being on set?
It's great actually. We all said it was like coming home when we began filming this second series. It's very comforting!
Last time round we saw Shelly snogging Steve's oddball neighbour Dan. Are we going to get a repeat performance?
I'm not telling! But Dan has a new girlfriend called Anita who's absolutely terrifying. She eats a lot of corned beef.
She sounds like a keeper! So is there a rivalry between the two women?
I don't think Shelly would have a chance in hell against Anita. Anita would just beat her up.
Shelly's a comedy character, but she's also rather a tragic character.
Yes, she's very vulnerable. You find out that she's been abused and she takes a lot of crap from people. She's a natural victim really.
Is there a lot of giggling on set?
No, we're professionals! Actually, I think we get most of that out of our systems in the rehearsals, and the characters are so well formed that once you're up and running, you just go for it.
Why do you think the show has struck a chord with people?
I think it says a lot about youth culture and flat-sharing, which most people go through in their late teens and early twenties. Also, the fact that it's a love story and we've all been there.
What do your kids [aged 18 and 15] think of the show?
They love it. It's become quite culty with all of their mates. Although my son finds it highly embarrassing, particularly when Shelly snogged Dan. He was like, 'Eurghhh, Mum. I can't believe you did that.'
Did you get a lot of kudos from your kids when you did Doctor Who?
It was fantastic because they hadn't heard of Doctor Who when I went into it, and of course none of us knew how successful it was going to be. It was hell doing the school run for a while, but it's fine. You just get on with it.
Do you still watch Doctor Who?
No, not anymore. I'm sort of Doctor Who'd out. It's still great, I'm sure, but I think I've gone past it. Is that awful?
Ben Lawrence / TV Choice 25-10-2011
http://www.tvchoicemagazine.co.uk
russelltovey: With an Al Wei Wei rat at LACMA x
gaycomicgeek: @russelltovey Just wanted to show you the Midshipman Alonso Frame uniform that I made. You totally rock! pic.twitter.com/84Y6Bqjo
russelltovey: @gaycomicgeek amazing!!!!!!! :-) x
isobelcameron1: In such a good mood, birthday tomorrow
russelltovey: @isobelcameron1 happy b day x
russelltovey: Say what you want about America... They KNOW how to do breakfast! X