BEING HUMAN UK
Below: Russell Tovey & Sinead Keenan in Being Human - George loves Nina.
Him & Her
is one of the most mind numbing programmes
LucyArkwright: @Kev80Lpool it's literally one of the most mind numbing programmes on the tele. #himandher #getoffthetele
Kev80Lpool: @LucyArkwright fair enough, I think its hilarious, but I wasn't really questioning your sanity. Just your taste :-D #himandher #justkidding
LucyArkwright: @Kev80Lpool i have a great taste in tele programmes hence why i dislike #himandher :) i think @russelltovey hates me now though #MyBad
russelltovey: @LucyArkwright i do a bit yeah
TheLarderBlog: Just watched the first 2 eps of Him & Her, confirmed that it's the best thing on tv. V v funny and a little bit in love with @russelltovey
russelltovey: @TheLarderBlog :-) x
runchel: Half an hour of #himandher is just not enough!! Bloody brilliant! I love it! @bbc3tv @russelltovey @Solemani
russelltovey: @runchel :-) x
QuestorWI: @russelltovey would love 2 watch but BBC hates American iPhones. Wood think they wood have gotten over losing the war by now
russelltovey: @QuestorWI search for tunnel bear @tunnelbear x
KyleMichaelDown: @VKRRR @beckij top 5 hot celebs@GBarlowOfficial @joemcelderry91 @OfficialVernonK @ollyofficial @russelltovey that's the guys done
russelltovey: @KyleMichaelDown good list... Honored to be in it x
schteeeeve: @Solemani @russelltovey your show is the best thing on the telly box thingy right now, love it! :)
russelltovey: @schteeeeve :-) x
harlomo: @russelltovey cheers for the chicken nuggets!
russelltovey: @harlomo ha ha... You are welcome... Thank @mrchrissullivan he bought them x
QUIZ
Gemma from BBC Radio asks Him and Her stars Russell Tovey and Sarah Solemani to play the Co-Habitation Quiz. (The link below is only available to play for 5 days from posting).
russelltovey: RT @RoxRobin: Him and Her stars @russelltovey & @solemani answer @gemcairn questions about living with your other half... bbc.co.uk/programmes/b01…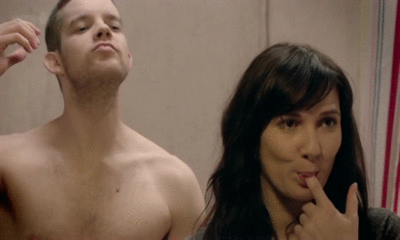 russelltovey: RT @DarrenOB: @russelltovey Going to invent a drinking game. 1 swig for a piss, 2 swigs for an arse slap and you have to down it if Dan's at the door.
russelltovey: Omg I could not be prouder.. My eldest nephew is performing Charlie and Chocolate Factory for School play and he is playing willy wonka!! X
russelltovey: That's my boy!!! :-) x
Sheridansmith1: @russelltovey well done, let's hope he concentrates, if he's anything like his uncle he'll be too busy giggling with veruca salt :)
russelltovey: @Sheridansmith1 make sure I see you Friday frog x
em7573: @russelltovey this was my son dressed as Willy Wonka for Roald Dahl day at school! pic.twitter.com/cf2jLCiY
russelltovey: @em7573 that's amazing! X
jamie_d_: is him & er oon tnight reet wanna no but cba to check telly pages lol @russelltovey x
russelltovey: @jamie_d_ yes 10.30 BBC 3 x
russelltovey: RT @NickJSav: @boydhilton convinced that this second series will propel it to the levels of Gavin and Stacey, @russelltovey and @Solemani are brilliant
russelltovey: RT @boydhilton: 30-minute warning: next new episode of Him & Her, BBC3, 10.30pm. Confirms its burgeoning reputation as the Best Thing On TV.
russelltovey: 5 minutes till episode 2 of the new series of #himandher I'm excited... Are you??? Eeeeeeeeeeeeee x
LucyArkwright: @russelltovey: no it's crap :)
russelltovey: @LucyArkwright are you serious??? X
LucyArkwright: @russelltovey i love you in being human and your cheeky little appearance in Gavin and Stacey :) stupid limited character #badtwitter
miss_tori86: @russelltovey just read your interview in the metro.... i'm gonna fart in your face next time I see you, just to check how you react...... x
russelltovey: @miss_tori86 :-) x
jeffeastin: People's Choice Awards 2012 Nomineess #WhiteCollar #Dexter #GameofThrones #PrettyLittleLiars #TrueBlood
russelltovey: @jeffeastin congratulations! X
russelltovey: RT @AnthonyDearie: Tonight's #himandher was superb as ever,one of the best episodes yet. This show seriously deserves to win some awards. @bbc3tv @russelltovey
THEKERRYHOWARD: Hi new followers welcome to my minge x
russelltovey: @THEKERRYHOWARD I've been there... It's a whopper x
russelltovey: Follow @THEKERRYHOWARD the bird wot plays the annoying sister in #himandher she funny x
Photomintie: @russelltovey Are you at the start of your day? Or the end of your night? Cuz u r 6 hours ahead of me and it's midnight here #hardtotell
russelltovey: @Photomintie start x
StevenWilson00: @russelltovey how many tweets do you think Russell gets a day ?
russelltovey: @StevenWilson00 just under a million x