JUST A MINUTE
MLPasterisk: @Tom_In_Oz_ Pic here of Russell at the Just A Minute recording
Newcomer Russell Tovey picks up some tips on playing the game from Stephen Fry.
It's the 45th anniversary of the TV show "Just A Minute" and there were some special episodes taped starring Russell Tovey and Stephen Fry amongst others.
gregairey: @russelltovey Im wearing your Howard Katz trousers as the Prince in 'Sleeping Beauty One Little Prick' Above the Stag!
russelltovey: RT @kentonallen: Exclusive! The music from last nights #Himandher revealed here: I Can't Believe You Like Me by SALON WOLVES bbc.in/rPef2k
Below:
Scenes from Him & Her Ep.4 S.2 - The Fight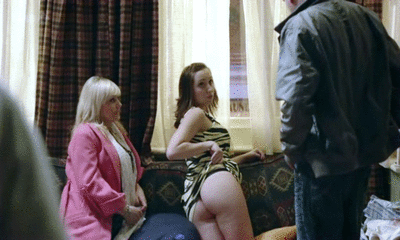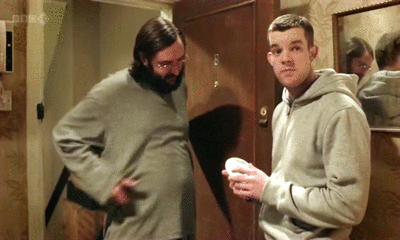 russelltovey: RT @chriswyc: Bafta for @THEKERRYHOWARD for having to say such stupid lines with a straight face: "need to bleach it before it goes green". #HimAndHer
russelltovey: RT @hdo90: I fucking love Laura. She is such a pure cunt #HimandHer @THEKERRYHOWARD
russelltovey: RT @Snowripper1106: Dan is hilarious - why steal someone else's pants? Lol loved all the tiny details in #himandher. The old bunch of flowers from last week!
THEKERRYHOWARD: I'm just about to pop out & have coffee with the great camille coduri (Shelly) & tell her about all the lovely tweets about her #himandher
russelltovey: @THEKERRYHOWARD send my love please x x x
THEKERRYHOWARD: @russelltovey I will do love, hope your okay xx
russelltovey: GoodMorning you hot bunch of fitties... So apparently #himandher was Trending last night?? Amazing... Thanks for lovely responses!! :-) x
(L to R) Richard Brownlie-Marshall, Russell Tovey, Claire Chin-Sue
park17th: @russelltovey not quite tits... but a nice picture still? ;-)
russelltovey: RT @THEKERRYHOWARD: #himandher we are trending!!!! @kentonallen @russelltovey
russelltovey: I forgot to pay the congestion charge for Monday!! Does that mean I have to pay a fine??? Shit sticks!!! #cclondon X
russelltovey: RT @andybates86: Tuesday night is #himandher night! 10:30 on BBC3... Awesome!!!@russelltovey @Solemani