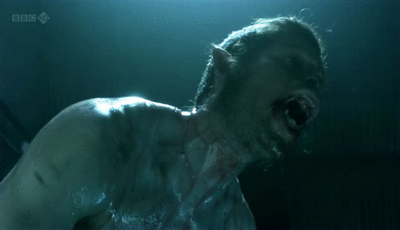 Above: Russell Tovey's last transformation into a werewolf season four episode one of Being Human.
blackbirdwords: Write-up:
About Stories Before Bedtime
So tonight may have been one of the best nights I've ever had, it was just such an incredible series of serendipitous events coupled with a lovely live performance and Tom Hiddleston and Russell Tovey and meeting some incredible new people and making new friends. So many amazing things happened tonight; Athena and I just got back to our place and our smiles are ear to ear and unfading - I think the effect will take quite a few days to wear off.
We got there in the nick of time, just a couple of minutes before the lights were dimmed. Russell Tovey and Sarah Solemani served as narrators of sorts, with a playful Ovid poem about how to search for, pursue, and hold onto a lover. They really made the rhyme work with their timing, and even when they messed up occasionally it was downright adorable and hilarious. Solemani's exclamations and improvised comments in between Tovey's rhymes in particular were a total hoot and had the theatre in stitches.
We got home, put the signed magazine in the centre of our mantelpiece and the signed DVD in prominent display on the shelf in the living room, and revelled in this incredible night we've had, here in the city to end all cities, where magic happens every day.
Because it really feels like tonight was magic: a fantastic, intimate performance, a run-in with two incredibly talented actors, seeing Tom's face up close (oh, the pictures don't even do him justice), and making new super cool geeky friends, all in one night; if that isn't magic, I don't know what is.
STORIES AFTER SEX AND BEFORE BEDTIME
Naomi_101: Lovely evening watching @russelltovey & @twhiddleston at Stories Before Bedtime at the Criterion. Utterly brilliant one and all.
NicolaBitton:
The best theatre tickets come with a free gin & tonic Kudos to @CriTheatre @russelltovey et al for a brilliant evening #storiesbeforebedtime
blackbirdwords:
@russelltovey Awesome performance tonight at @CriTheatre! Playful and mischievous! And thanks a million for signing my Sherlock DVD! :)
plastine:
Amazing evening of culture and laughs (some awkward) watching @russelltovey twice. He and @Solemani made Ovid a modern comedy classic
moviemarsh11:
@russelltovey great play tonight thanks for saying hi at the stage door
AmeliaHockey:
@russelltovey @Solemani being utterly hilarious and clearly having the most fun! Wonderful even with the odd line fluff!
Like_Whoa:
Oh, hey. I just met @russelltovey. I had to stop myself from howling. :) What a lovely chap, I adore him so much. ♥♥ #StoriesBeforeBedtime
russelltovey: Apologies to Alicia at stage door just now if you see this, I was late n couldn't have a photo but if you come Round post show I'm yours x
Mitzi_Macintosh: @russelltovey I'm gonna throw on a dress and say, "I'm Alicia, Russell said he's all mine!" But I bet they say, "You're 46 and a man go away!"
Princess_SEA: The fab @russelltovey was amaze in sex with a stranger & even nicer in real life, thanx for the pic x
Bcgkelly: @AWOLTom would love to get to London to see @russelltovey in Sex with a Stranger for my birthday which is coming this Sunday.
russelltovey: Today was a very busy but a very very good day! Bed is screaming to take me under it's quilted eulogie... Night wittys x
edwardclarke: @Tom_In_Oz_ Great interview, Russell talks about first love and having a 'Michael Fassbender' moment...
The London Evening Standard have run a feature where celebrities talk about romantic affairs involving landmarks: Russell Tovey's is a bench seat on the Southbank 10-2-2012.
Got the love: the most romantic London landmarks
Seven years ago I had a secret, mad affair on this bench. I was 23 and we were doing a play at the National Theatre. No one knew about it at the time but we used to meet up at the bench first thing in the morning before rehearsals to catch up. He'd leave first and I'd get up ten minutes later so that we arrived separately. Before you jump to conclusions, no, I didn't have an affair with James Corden, it wasn't even one of The History Boys. Whenever I walk past now I smile to myself and remember the romance and excitement of it all. It was the first time I'd had such overpowering feelings for anyone.
I'm a pretty good date these days. I like the basics like a good meal somewhere and a chat. On Valentine's Day I'll be performing in Sex with a Stranger and then I'll probably go out afterwards and prowl the streets for love. I don't mind being single on Valentine's Day because I send my mum a card and she sends me one. I'll probably check Twitter on the day and hopefully people will be saying nice things about me. I'm not one of those lonely and desperate singletons.
Sex with a Stranger is about how average people act in relationships. It shows something on stage that everybody's experienced. That situation when you're out having fun and you think, 'Oh, I really want to go home with this person and shag them,' but when it actually comes down to it and you're waiting for a taxi home, you suddenly freeze and don't want to go through with it.
My bum comes up a lot in conversation. Nudity clauses have gone out of the window for me because I get my bits out so often, especially in the BBC's Being Human. People tend to be quite nice about it so I don't mind so much. I've never showed my knob on screen; I'm saving my 'Michael Fassbender moment' for Hollywood and I haven't seen Shame yet but I've heard it's sensational (or so says George Clooney).
Sex with a Stranger, written by Stefan Golaszewski and directed by Phillip Breen, is
at Trafalgar Studios until 25 February
Above:
Copy of my autographed ticket from Russell Tovey for his play "Sex With A Stranger." Pictured on left with Russell is his former drama coach Patricia Ledwith and on right is artist Mark M. Merrett.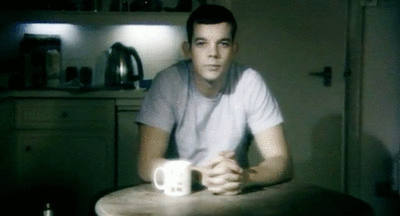 Above:
Russell appeared on the Southbank Show but his poem was not exactly a bedtime story!
Below:
Art imitates life on the Southbank!
KAZWOLF
Above:
Preliminary drawing of Karen "Kaz" @WhoGuru from the USA as drawn by Mark M. Merrett of Croydon London. This will be finished in CGI at a later stage. This picture was commissioned by Kaz who wanted to see herself in the image of a werewolf.
GEORGE, NINA AND EVE
russelltovey: RT @anniekevans: Thanks to Russell Tovey for the mention in his interview with Spoonfed http://t.co/UlGpG9Gd
MLPasterisk: @Tom_In_Oz_ Saw #sexwithastranger matinee today. Totally blown away by the play and the cast were all superb ! A must see for any Tovey fan !
Theatre Review: Sex With A Stranger @ Trafalgar Studios
If you're currently feeling gloomy, staring down at a date-free Valentine's Day, we reckon there are worse options than booking to see Sex With A Stranger at the Trafalgar Studios this month.
Despite its somewhat crass title ("The theatre? Nice. What are you going to see?"… "Err…"), Sex With A Stranger holds an incredibly sharp mirror up to the relationships of twenty-somethings. While it's certainly not the first play to dwell on these themes, SWAS captures something unique in its unsettling quality, and in the quiet pathos of its female victim. See this, and you might feel pleased you're single.
Stefan Golaszewski's non-linear story opens at a bus stop; Adam's got lucky, persuading Grace to leave a club with him, and the pair are headed bedwards, via the kebab shop. Best-known for BBC3′s Him & Her, Golaszewski's dialogue is a delight. Almost every line has been freshly picked from the box marked "mundane", dusted with a sprinkling of fatuous, and, in the mouths of Russell Tovey and Jaime Winstone, made to sound even more inane. Initially, it's hilarious. But you can't help thinking: if this is "getting lucky", it kinda sucks.
Running at just 90 minutes, SWAS zips along: some scenes are over in less than 30 seconds, creating snapshots of a hazily remembered night out perfectly.
So we rewind jerkily through the rest of Adam's day. After the repetitive mirthless giggling and the strained dialogue of the one night stand, it's almost a relief to watch a wordless scene: a second girl, simply ironing a shirt. But the tension in the Trafalgar Studios' tiny second space builds with each silent, resentful(?) movement — it's clearly the shirt Adam's wearing later that evening. And so the life Adam's left to go clubbing with his mates unfolds. And it's one of the most phenomenally stale relationships we've ever seen played out on stage.
Naomi Sheldon's Ruth is an excruciating portrayal of an unhappy girlfriend. Despite occasional sly references to weddings and marriage, she's clearly stopped trusting (and maybe even liking) her idiot boyfriend. Sheldon's vulnerability and unease are breathtaking. And still Golaszewski's script is unrelentingly funny: a moment of quiet supermarket rage ("It clearly says six items. Six! Items!") expressing all the anger Ruth feels about her day/bloke/life in one static, hushed outburst.
All three of the cast are superb, enriching what might sound like a flimsy plot and sparse dialogue with oodles of tell-tale glances, and pin-point accurate mannerisms. And while SWAS is frequently laugh-out-loud funny, the overwhelming sadness underpinning the final betrayal is incredibly intense. Spilling out onto the street afterwards, we had to admit: Sex With A Stranger is incredibly cathartic. (No sniggering at the back – Ed.) Single, dating, attached, married; at least our lives aren't that bad.
Sex With A Stranger plays at Trafalgar Studios 2 until 25 February 2012.
Being Human
I've had some time to reflect on last night's episode and to be honest I feel really quite hollow and empty about it. It isn't the writers fault that Sinead Keenan chose to leave the show without filming an exit storyline but the disappointment of Nina and Nina/George's story just coming to an abrupt full stop with a tossed off explanation about events off screen is kind of heartbreaking and it'll take time to get over that and into what's actually going on in the show.
Also, Lee Ingleby's Wyndham set up as the new Big Bad in the final scene of S3 was apparently killed off screen too? What is it with this show and not being able to hold onto cast members in the last year? I am intrigued.
I mean the show was originally designed to be about a rageaholic HIV sufferer, a recovering drug addict and a shut-in with social anxiety disorder and that heady ~disability metaphor brew is what I loved most. It seems to have become more of a typical good vs. evil supernatural/genre show…I found the stuff set in the future especially quite clichéd and like the scenes with Hal and his own wolf/ghost crew a touch too earnest.
Ah, well tempted to say Lenora Crichlow 's face is enough to keep me watching, but really that's enough to justify the licence fee alone! Hope I start "feeling it" again soon.