KNOBS AND BALLS,
VAN GOGH,
YOU JUST HAVE THE HORN WITH ANAGRAMS
...
(sung to THE BIRDIE DANCE)
russelltovey: RT @heawood: Ladbrokes (UK's biggest bookmaker) says odds on Cameron stepping down as PM tumbled from 100/1 to 8/1 in last few hours (via @MattGarrahan)
MatthewCainC4: What is there to do in Basingstoke? Any ideas from twitter...?
russelltovey: @MatthewCainC4 oh no???!!! You're Not serious?? X
russelltovey: I have the Birdie song in my head, I'm walking along humming it to myself... Knob job x
russelltovey: Guess the artists? X
russelltovey: Guess the artists 2? X
chocolat_chaud: @russelltovey is it you?
brickpants: @russelltovey Van Gogh? :D
russelltovey: @brickpants one is the other isn't x half gold star x
russelltovey RT @BoyVirginia: @russelltovey this looks Van Gogh, ish..but knowing me and my art history, I may be miles off.
russelltovey: @BoyVirginiaMade one is aye x
russelltovey: Sorry just to clarify.. The Roses paintings were by Van Gogh and John Currin. Lesson over. Gold star to a few x
OutpostHousing: @russelltovey pls have a look at our new website and consider giving us a follow www.outpostproject.org we help LGBT youth homeless.Thanks x
russelltovey: @OutpostHousing ok x
robbieanthony87: @russelltovey hey mate how r u i think ur hot as hell and ur a great actor too love how u play straight roles and never typecasted ;D
russelltovey: @robbieanthony87 thanks :-) x
AshleeLGalletta: @russelltovey will you be in Canada for the FanExpo this summer?
russelltovey: @AshleeLGalletta nope :-( x
russelltovey: Who's in soho? X
SpiderMonkey987: @russelltovey oh god... You're asking for trouble with tweets like that mr tovey!
russelltovey: Mumma is hungry x
Olliestweet: @russelltovey SO IS PAPPA X
russelltovey: I shouldn't complain but i think my knob maybe too big x
Littlestickie: @russelltovey so is mine. He is 6 foot 4 and sometimes annoys the fuck out of me.
MichaeljonF: @russelltovey Everyone has their cross to bear
russelltovey: @MichaeljonF ha ha ha x
TheNoelSullivan: @russelltovey the last hour of tovey tweets are something to behold. Birdie song, classic art and knob size. Everyone should tweet this way.
russelltovey: You guys..... "Picture or it didn't happen" malarky. I can't post a pic of my knob on here can I?? My balls sure.. But my knob? Come on... X
lifeissurreal: @russelltovey why is it less "wrong" to post a pic of your balls than it is to post a pic of your knob, here I shall do it
KevinLehane: @russelltovey lmao. You are clearly the nuttiest celeb on twitter, Tovey.
russelltovey: @KevinLehane ;-) x
ScotteeScottee: @russelltovey have you been hacked by notw or u just have the horn?
russelltovey: Why should you wear Russian underwear? Because otherwise Chernobyl fall out x :-)
tpamatt: @russelltovey corny, yet aborable. Pretty much sums you up :-)
GeorgeBouras: @russelltovey chernoby's in Ukraine so you've embarrassed yourself...
russelltovey RT @Unnamedinsider: @russelltovey are you aware that 'Russell Tovey' is an anagram of 'Lusty Resolve'
A TOWER LOAD
RussTov_FanSite: @russelltovey Morning. Day 1 filming #Towerblock - Best of luck....remember your lines and don't trip over the furniture! x
russelltovey: I really don't like what we are referring to as 'summer' presently... Talk about s.a.d x
Wolfie_Rankin: @russelltovey It was 17c not long ago and it's winter here in Australia, oddly it was 17c in England I was told, and it's summer.
Tom_In_Oz_: @Russelltovey it was 22c here in Newcastle NSW today....time to visit Oz. x
trvllngjwllr: @russelltovey Come to Australia now! Our current winter is pretty shit for winter, 19 degrees? WTF?
tantopat: @russelltovey At least we won't have to worry about hosepipe bans this year! :P
russelltovey: @tantopat oh we still will x
BigBoyler: Wow, thanks for the support, but should point out, just for the record,... I wasn't doing and American accent. It was Indian.
russelltovey: @BigBoyler it was a spot-on Indian I thought...
BigBoyler: @russelltovey cheers Russ, I really schwarma'd the shit out of it.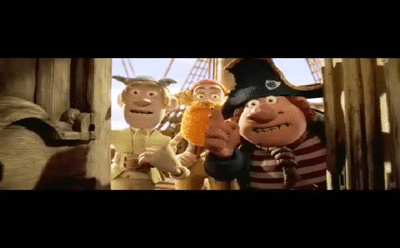 above: RUSSELL TOVEY IS THE ALBINO PIRATE
BELOW: The Pirates trailer in H.D.