tommacwriter: Thanks for a SUPER night last night! You boys outdid yourselves, you clever girls. x @russelltovey @MatthewCainC4
russelltovey: @tommacwriter ♥
boydhilton: @tommacwriter @russelltovey @matthewcainc4 I second that. Awesome night. Sorry about the expensive wine. (tho cheapest bottle was £40) xx
russelltovey: @boydhilton did you keep ordering or did they just keep bringing them? X
boydhilton: @russelltovey they kept bringing them! (though someone else might have ordered them I guess) X
boydhilton: @russelltovey the wine dude (sommelier?) initially recommended a £600 bottle. I reckon it's got the biggest wine mark-ups in the known world
tommacwriter: @boydhilton @russelltovey @matthewcainc4 Well I knew it would be YOUR fault somehow.
MatthewCainC4: @boydhilton @russelltovey Ha ha yeah and you still have to settle your booze bill with us Boydy!!!
boydhilton: @MatthewCainC4 @russelltovey oh yes!
boydhilton: @tommacwriter @russelltovey @matthewcainc4 sorry. I know you wanted their £5k shiraz, Tom.
tommacwriter: @boydhilton @russelltovey @matthewcainc4 darling, I wouldn't cook with it.
Gourounlian: What a great night thank you boys @tommacwriter & @russelltovey xxx
russelltovey: @Gourounlian great night I agree... Hot photo x
russelltovey: RT @kentonallen: You can watch #HimandHer : Series 2, Ep1: The Move Here! bbc.in/tLrhfY
russelltovey: RT @CultBoxTV: What did you think of #HimAndHer's return last night? Let us know here... cultbox.co.uk/features/previ…
russelltovey: What a wonderful morning wittys!!! Feedback for Series 2 launch of #himandher has been phenom...Congrats @bigtalk and all of team h&h x :-)
MLPasterisk: @Tom_In_Oz_ #himandher overnight ratings for S2 ep 1 621k (PS, it was very funny !)
Him and Her, from Big Talk Productions, returned for a second series on BBC3 at 10.30pm. The sitcom about a lazy couple in their twenties averaged 580,700 (3.7%) for Series 1, shown on Monday in 2010. An audience of 621,100 (4.1%) watched last night's show, providing a Performance Index of 102.6.
francesbarber13: @MatthewCainC4 @russelltovey Thankyou boys for hosting a lovely night. xx
russelltovey: @francesbarber13 Thank you for being the star attraction!! X x
Tom_In_Oz_: @russelltovey viewing figures are in I put them on the blog and some THT bits and pieces
russelltovey: RT @MLPasterisk: @Tom_In_Oz_ #himandher overnight ratings for S2 ep 1 621k (PS, it was very funny !)
SEASON TWO HIM & HER
EPISODE ONE "THE MOVE"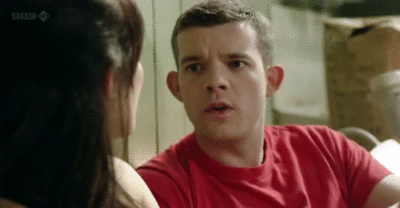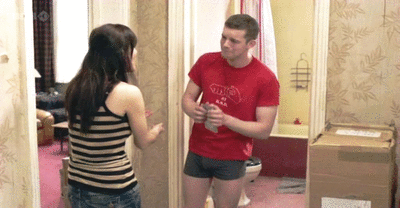 For nearly two years the Tovey blog has posted some wonderful articles and news about many famous celebrities and stars. But today it's time to celebrate a "little person" just starting to blossom in an art form he is slowly mastering with guts and determination.
Today it is my pleasure to exhibit more CGI artwork by Mark M. Merrett a young man who is battling agoraphobia, severe dyslexia, a speech impediment and mobility issues.
Mark has sent me the first picture of two versions he is creating of a blog follower known as @rudehamster aka Andrew. The first picture is of Andrew as a normal human the second will be as a "werehamster." What is interesting to know is that Andrew, like Mark, is also a man who comes with a variety of medical disabilities but what Mark has done here is drawn Andrew free of all the equipment that he needs nowadays to keep him mobile. Here is Andrew standing tall and proud.
Out of the kindness of his heart Mr Merrett has been slowly drawing a variety of people who are Tovey blog supporters in werewolf form. He sent me a picture of Russell Tovey pre-transforming into a werewolf half-way through 2011 which started this association off.
Mark has since then drawn many others celebrities and blog followers as werewolves or heroes. Here is my picture of me as a hero with a Russell Tovey shield and a Charlie Condou scythe.
Next, is Tom Markstahler from Germany. Tom is a long-term blog follower and the man up on charges for supplying Russell Tovey with Almond M&Ms. Tom is drawn here as a vampire slayer.
Below is the well known and respected actor Charlie Condou who plays Marcus Dent on Coronation Street which is a show known around the world. In fact Charlie has been a great supporter of Mark's work. For fun Mark drew Charlie as a werewolf which then started an avalanche of requests for people to ask Mark to draw them as werewolves Mark is still slowly working his way through the requests.
Mark is currently turning me into a werewolf! It may be exhibited on a later blog post depending on how much clothing I am wearing! I don't want to scare the children and horses!
WARNING
THE FOLLOWING SITE CONTAINS NUDITY
If you wish to see some of Mark's work in progress here is the link: CLICK
Tom_In_Oz_: @russelltovey @TMarkstahler Dear @MarkMMerrett is still helping trend the Russ Tov site in Sydney Oz with his art. pic.twitter.com/lsgMf447
TMarkstahler: @Tom_In_Oz_ @russelltovey @markmmerrett Oh! Brilliant!!! My little bro will wake up to a huge surprise seeing that!!! :-)
HIM AND HER SEASON TWO PART ONE
spencermillman: @kentonallen brilliant first ep of #him and her very jealous I didn't produce it, congrats all
kentonallen: @spencermillman you are a lovely man for bothering to say that. Thank you x
stuartmurphy100: @kentonallen love it too. Haven't seen it, but its simply brilliant. The writing, the direction. Oh and @russelltovey. The new david niven i
russelltovey: @stuartmurphy100 I heart stuart M x
russelltovey: From reading everyone's responses it seems #himandher has gone down well tonight... I'm over the moon... Eeeeeeeeeeeeee x
russelltovey: RT @aroomwithastu: Great 1st episode of Him & Her! One of the best comedies on TV at the moment @russelltovey @gillinghamjoe
russelltovey: RT @kentonallen: see article below #himandher
Every couple should try to be more like Steve and Becky. Here's why…
Sam Wollaston guardian.co.uk, Tuesday 1 November 2011
http://www.guardian.co.uk
Ten reasons to love Him & Her (BBC3), Stefan Golaszewski's intimate little bedsitcom:
1 Him
Russell Tovey, as Steve. He's like a puppy – playful and idiotic, with a lovely repertoire of facial expressions and whimpering noises. Totally irresistible and adorable. Adoring too – he worships Her (Becky). When he says: "This might be the best day of my entire life" because she's moved in with him, he really means it. And he wants a blow job.
2 Her
Becky, played by Sarah Solemani, is lovely – beautiful, sexy, funny … that's not a bad combo to start with. But she's also wise, certainly wiser than Steve is (though, to be fair, so is a peanut). And kind too. They both are – to each other, and to other people. Kind, but not worthy or pious. It's perfect. Becky is also mischievous and shares Steve's slovenliness. Plus she's a bit dirty. In short, perfect.
3 Him & Her
They're perfect together too. They fit. Traditionally, a sitcom couple are competitive and bickery. Steve and Becky are very much in love, which is both refreshing and incredibly sweet. And all over each other. If they weren't so nice, it would be easy to be jealous. Every couple should try to be more like Steve and Becky.
4 What they say
The traditional sitcom couple exchange salvos of smart-arse lines, each of which is followed by an aftershock of audience laughter. It has little to do with the way people actually speak. Golaszewski's script does. "Come on, don't be a dick," Steve says to Becky when she won't lick the blood from a scratch (or is it a spot?) on his arm. That's what goes on and gets said in real bedrooms. Doesn't it?
5 What they say (part 2)
That's not to say there aren't plenty of laugh-out-loud funny lines. Mostly delivered by Laura (see below). Such as: "Nice to give something back to animals after all they've done for us – you know, pulling stuff, guarding things, making honey; you could write a book about it." Or: "God she's hot, Becks, she's like something out of Nuts."
6 Dan
The neighbour. He's everything that Steve and Becky aren't – beardy, weirdy, inappropriate, awkward, unaware, socially inept … though not entirely unlikable; it's just that there are issues. Everyone knows a Dan, don't they? A brilliant character, and a brilliant performance from Joe Wilkinson. "Would you do 'er?" he asks Steve, showing him a picture of his girlfriend.
7 Laura and Paul
You can't be liking everyone. Which is where Laura and Paul come in. Laura may be Becky's sister, but she's nothing like her. She's ambitious and mean, cruel even; certainly pretentious and ridiculous ("chaise longue" rhymes with blancmange when she says it). Though, as I said, she does have the best lines. Paul, her fiance, is just a nasty thug. Both are horrid, and hilarious.
8 The little things
Steve drinks tea from a measuring jug, presumably because a mug would involve washing up. Or there is only one mug? The place is a tip, and yet he has an OCD thing going on about all the hangers having to face the same way in the wardrobe – hooking inwards, obviously, because then they're easier to get out. He's right, I have that! Anyway, what I'm saying is that it's beautifully observed.
9 The loo door
Generally open. For wees, and possibly more. So it's a bit disgusting, and probably quite smelly, but there's something refreshingly unuptight and open about it, reflecting Steve and Becky's relaxed relationship. First thing I'm going to do when I get home tonight: take that bathroom door right off, in an attempt to be more like them. Could be interesting when the rellies come over.
10 Hmmm …
Can't think of another. A summing-up then for number 10. Him & Her rings true, it's funny, sexy, a wee bit rude, and utterly charming. It may also be the nicest thing on the telly right now.
dredbeveridge: Big shout out to heavenly twins @MatthewCainC4 and @russelltovey and the very delightful @francesbarber13 for fab night in aid of THT
dredbeveridge: Showing @francesbarber13 how to twitpic @MatthewCainC4
kimmygrumpa: @russelltovey it's my 44th and my hubby's 45th birthday today can we get a "happy birthday"?
russelltovey: @kimmygrumpa h b d's x x
russelltovey: RT @SFTW: This week we are joined on the sofa and in the kitchen by stars of Him & Her, Russell Tovey & Sarah Solemani and comedian Seann Walsh!!