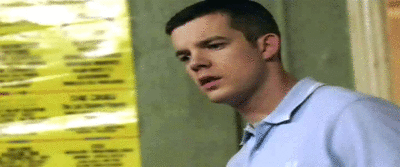 MatthewCainC4: Having lads' night in with my twin @russelltovey - eating chilli con carne and watching The Inbetweeners movie on DVD. Hope it's good...
Ryan17ward: @russelltovey Hey :D. How are you?. I have a show at college tomoz called The Reunion...can i have a good luck tweet please? x
russelltovey: @Ryan17ward good luck mate! X
MatthewCainC4:
V disappointed with Inbetweeners film. Lousy script, lacklustre direction + flat pacing. No idea how it did so well. Totally underwhelming!
Below:
Russell Tovey gets a friendly groping at the British Comedy Awards December 2011.
And now see the video...
Continued from post No.1238


During Ozziebear's first time in London he found out that the British are very easily scared. Ozziebear's main task was to meet as many Brits as he could, to have a nice chat, to share a cup of tea or a pot of honey with... well, just meeting the people. The best place to meet loads of people is the tube. Actually you get to know them rather intimately when you are cramped in a carriage with hundreds of them. At least that's what Ozziebear thought...
Strangely, when a German tourist talking to a plush toy bear enters the tube carriage, all the other passengers leave...
Well, it was a nice train ride... just a little bit lonely!
To be continued...
russelltovey: @KennyCastle cool.. First preview......... Eager beaver :-) x
russelltovey: Where do they stock Moncler in London? Anyone know? Please x
TheChicGeekcouk: @russelltovey Russell, there's a @monclerofficial shop in Sloane Street, but also in @Selfridges @HarrodsofLondon
russelltovey: Selfridges it is... Thank you 118-wittys x
LorLoves: @russelltovey womens moncler in Joseph in westbourne grove. Best I can do!
russelltovey: @LorLoves cheers x
88tickets: @russelltovey dudey - drinks with becs at 5:30 central??
russelltovey:
@88tickets I am busy till 7.15... Where you gonna be at? Dm me x
REALLAURENSOCHA: @russelltovey nice to finally meet you. Hope you had fun at the comedy awards x
russelltovey: @REALLAURENSOCHA nice to meet you too.. Drink soon eh you talented girl x
Below: Kerry Howard, Russell Tovey and Sarah Solemani attend the British Comedy Awards held 16-12-2011 at the Fountain Studios London, England.