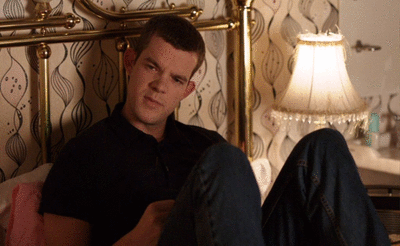 BUTCH TOVEY GOES CAMP WITH KYLIE
thatreadergirl: @russelltovey hi i wrote to you about my friend luke and you so so kindly replied :) thank you. his number is [xxxxxxxxx], youre amazing!
russelltovey: @thatreadergirl can you remind me what it was about? Will follow you so you can dm me, I kind of remember... X
thatreadergirl: @russelltovey Coming home to that letter has put me in a fab mood-i love making my friends happy!&ppl who have time for their fans are cool.
russelltovey: RT @SineadKeenan: Teeties, a favour 2 ask: Please go 2 www.youbloom.com & vote 4 Misery by Citizen Skin. It's a friends band & he (&I) wud really appreciate it! xx
russelltovey: bbc.in/g86Tym wow!!!! X crazy
Chloe_Met: @russelltovey Its my 21st birthday today :) Any chance of a birthday tweet? :) xxx
russelltovey: @Chloe_Met happy 21st! :-) x
russelltovey: About to watch Kylie at the O2.... Eeee... The campness is phenomanal!!!! X
russelltovey: @MatthewCainC4 and myself at Kylie x
songanddancekid: @russelltovey please could you all say a big hello to all us dance teachers out here in twitterland x
russelltovey: @songanddancekid heeelllloooooo! X
TishyP: @russelltovey if you get a second, can you say hi to the blonde guy (Andrew) behind you :o)
russelltovey: @TishyP get him to say hello to me! X
ianokeeffe23: @russelltovey kylie's a lucky girl not many pop stars can say they've a gay werewolf who's a fan of theirs but she can cross that off her list
JOJEHARVEY: @russelltovey don't get wet, there's a lodda water! x
gary_andrew1: @JOJEHARVEY @russelltovey Awwww don't spoil it for him :o)
russelltovey: I think that was quite possibly one of the best concerts I've ever seen!!!! So brilliant and fresh and camp!! Ha ha x
MatthewCainC4: That was best Kylie show ever! So many original concepts + looks. Was at time hilarious, at times beautiful and at even more times rocking!
Tom_In_Oz_: @russelltovey agree...she did the entertainment centre here in Newcastle Oz...just amaze x
MatthewCainC4: I often think Kylie holds back + doesn't break sweat or let herself go. But tonight she gave it her all - and then a whole lot more!
Tom_In_Oz_: @MatthewCainC4 There is nothing like personal endorsement and nothing is as good as "GAY WORD OF MOUTH". @KylieMinogue deserves xxx praise!
t4rdis: What a sensational and spectacular show! I have the biggest smile on my face. Thank you @kylieminogue! @KylieLesFolies #KYLIE
YesItIsGav: @russelltovey russell that's twice you've said it's camp. You ready to confess to being gay??
YesItsThomas: @YesItIsGav @russelltovey he is gay, and out.
johnwinter82: OMG! Russell f*cking tovey...! (excuse the fact I look so rough!) @russelltovey
johnwinter82: Russell tovey was too too beautiful in real life, and he excused me being a total wanker while he were eating!
johnwinter82: @russelltovey thank you for being so polite and letting me have a photo... Clearly it must be extremely annoying! Xx
russelltovey: RT @robsavva: @russelltovey PLZ.RT. 2morrow I'm runnin the Brighton marathon 4my #Autistic son's Special Needs sch at http://www.justgiving.com/RobertSavva
MatthewCainC4: With my twin @russelltovey at O2 to see Kylie...
gugibufugi: @MatthewCainC4 I'm so envious of you right now. I wonder if I could somehow augment my awesome so I could be at your level. Tips appreciated
MatthewCainC4: @gugibufugi You ARE awesome Jenna. I'm sitting watching Kylie thinking about how awesome you are!
gugibufugi: Oh my good god Matthew Cain tweeted me from a Kylie Minogue concert (at which he is sitting next to Russell Tovey I might add)!
Earlier that day it was...
MatthewCainC4: Off to see Kylie in concert tonight with my twin @russelltovey ... What are your top five favourite Kylie songs of all time?
Tom_In_Oz_: @MatthewCainC4 @russelltovey The Kylie Megamix by Hot Tracks goes over 16 mins & has 27 songs. So that wipes out ur limit of 5 tracks, damn!
MatthewCainC4: Mine are Love at First Sight, Shocked, Wouldn't Change a Thing, Your Disco Needs You and Wow. A definitive list I reckon!
Tom_In_Oz_: @MatthewCainC4 @russelltovey And of course before you go time for a cat snap??????? Paleeze?
Foxfontaine: @MatthewCainC4 Put Yourself In My Place, Shocked, Better The Devil You Know, In My Arms & What Do I Have To Do?
caz303: @MatthewCainC4 what about your sister @will_young31
MatthewCainC4: @caz303 I love my sister @will_young31but he's too busy recording his own music to tweet about Kylie...
Foxfontaine: @matthewcainc4 OI!! I'm going to see the little Australian tonight too. MEET MEEEEE FOR DRINKIEEEEEES!!!! @russelltovey
MatthewCainC4:
Put Yourself in my Place could be most under-rated Kylie song of all time. It's actually sensational. Come on what are your fav Kylie songs?
Tom_In_Oz_: @MatthewCainC4 and here is the clip to the official megamix I love
kylieminogue: LONDON, thank you for the most amazing reception this evening. Joyful, moving and .... I'll be back tomorrow!!! xx
gugibufugi: @kylieminogue Are you gonna see @russelltovey ? I'd love to see a pic of you two! You'd fry the camera with hotness though. Too much sexy.
Tom_In_Oz_: @gugibufugi @kylieminogue @russelltovey Kylie is someone I met once by accident. Russell Tovey is still on my "to meet" list...lol
gugibufugi: @Tom_In_Oz_ @kylieminogue @russelltovey He's on my list now! :) That must have been exhilarating, 2 meet Kylie. I wonder if I'll ever meet R
Tom_In_Oz_:@gugibufugi @kylieminogue @russelltovey Mrs Oz & I were out 4 a walk we almost walked over the top of Kylie b4 we realized who she was lol
Tom_In_Oz_:@gugibufugi @kylieminogue @russelltovey It was by accident while shopping in Melb in a suburb called Franskston...she was out for a walk
Dr Woo-Whoo
boydhilton: Enough great stories in the first two new Doctor Who episodes to fill a whole series. Amazing fun and scares.
MatthewCainC4: @boydhilton Boydy, think it might be time for our annual spat about Doctor Who.. It's naff, cheap, the drama's flimsy + I just don't get it!
MatthewCainC4: @boydhilton Have done several times - on your recommendation! But still don't get it. I just don't care about the daft, unbelievable stories
MatthewCainC4: @boydhilton Nah, I didn't like it as a kid. Thought it was crap then. Couldn't take it seriously after Star Wars...
MatthewCainC4: @boydhilton OK I'll give it one more chance but only for you, my big brother. Recommend me one more episode and I'll watch. Deal?
Tom_In_Oz_: @MatthewCainC4 @boydhilton Re Dr Who: u missed the point Dr Who is the biggest load of CAMP sci-fi ever surely u can see the campy side of it?
boydhilton: @Tom_In_Oz_ @matthewcainc4 it's not that camp. Funny, but not camp
Tom_In_Oz_: @boydhilton @matthewcainc4 agree funny yes, the show is full of cheesiness at times that's why I used the word camp...almost like a pantomime
MatthewCainC4: @boydhilton @Tom_In_Oz_ Boydy I'm going to write a blog on how much I hate Doctor Who... But I'd still LOVE it if you could change my mind!
Tom_In_Oz_: @MatthewCainC4 @boydhilton MATT nooooooooooooo you will have people hate you forever...it has been an institution…it is the Queen Mum of TV
It was Stephen Fry who said, "Everyone is eventually seduced by Twitter"
jonesyinc1: #FollowFriday @tom_in_oz_ @glenncoco01
Tom_In_Oz_: @jonesyinc1 @glenncoco01 Hi nice people from Tom in Oz xx
GlennCoco01: @Tom_In_Oz_ @jonesyinc1 hi there Tom!
Tom_In_Oz_: @GlennCoco01 I actually look forward to the #FF thingies because I get to meet friends of friends...nice!
GlennCoco01: @Tom_In_Oz_ or you could just cyber stalk them like a normal person
Tom_In_Oz_: @GlennCoco01 no I like chatting too much. Besides when you stalk, once you have the bank account numbers, it's all over so quickly!
GlennCoco01: @Tom_In_Oz_ but you've also got to get their toenail clippings and a lock of hair
Tom_In_Oz_: @GlennCoco01 well yes there are always so many parts to collect. BTW I have one of ur toenails, so far!
GlennCoco01: @Tom_In_Oz_ you were the masked stranger with pliers last night?
Tom_In_Oz_: @GlennCoco01 do you remember the guy plying you with liquor and wearing a red shirt...'twas moi! YES, I was plying you with pliers too xx
GlennCoco01: @Tom_In_Oz_ oh, now that I know who I shagged last night it feels a bit less special
Tom_In_Oz_: @GlennCoco01 Oh, I hope u can still walk & I'm soz if u can't. 4 moi it was very special xxx because at least I can remember it (mostly)!
GlennCoco01: @Tom_In_Oz_ you're fun! You can stay!
Tom_In_Oz_: @GlennCoco01 Sweetie if you were not so far away I'd be round in 2 secs...I love staying over with guys, especially ones who can't run! x
Tom_In_Oz_: @frankolad I chatted 2 a #FF lister & he ended up "following me." There is a first time 4 everything. I am now a Twitter seducer! U should say hello!
frankolad: @GlennCoco01 Hello Glenn... Cous and friend of @Tom_In_Oz_ but I'm in Liverpool :0)
GlennCoco01: @frankolad @Tom_In_Oz_ hi Frank!
Tom_In_Oz_: @GlennCoco01 @frankolad I told cus Frank to say hello. He is a very hard working but quiet man who lives in Liverpool UK. Tom, Newcastle Oz.
frankolad: @Tom_In_Oz_ @GlennCoco01 Jeez... Ya make me sound a saint... Saint Franko of Liver Puddle... !! :0P
Tom_In_Oz_: @frankolad better to sound like a saint than a stalker although @GlennCoco01 was kinda turned on when he thought I was one! lol
frankolad: @Tom_In_Oz_ @GlennCoco01Ooooeeerrr... My adding him as a friend might be a bit like that... Two turn ons in two days ??? :0P
My people need to talk to your people…
marcuswhitney1: I think I can officially say that I think Bobbi Brown eye shadows are the best! That's my make-up tip for the day!
Tom_In_Oz_: @marcuswhitney1 roses and a box of chocs is what I usually make up with...and gets me better results...xxx
FoxyLorri64: No wonder you look good enough to eat! @Tom_In_Oz_@marcuswhitney1
Tom_In_Oz_: @FoxyLorri64 @marcuswhitney1 Marcus r u already planning season 4 BH make-up yet? Development talks shood be underway by now I hope!
marcuswhitney1: @Tom_In_Oz_ @foxylorri64 holidays first, back to my friends villa in turkey. Can't wait!
FoxyLorri64: @marcuswhitney1 @Tom_In_Oz_ Oh wonderful Marcus! To think it was 2 yrs this week I was in Bodrum Turkey!
Tom_In_Oz_: @marcuswhitney1 @foxylorri64 Marcus and when you say friend you mean your rich millionaire BF?
marcuswhitney1: Does anyone want to see a pic of Herrick make- up at the end of series 2 when he rises out of the ground?
Tom_In_Oz_: @marcuswhitney1 I bet both of you had fun creating that look...Jason Watkins must have been very patient with so many appliances & blood effects etc
marcuswhitney1: @Tom_In_Oz_ Jason loved it!
Tom_In_Oz_: @marcuswhitney1 Did you know I put Jase's nude run on the blog? It was almost as pop a gif as the nude Russ gifs…please let Jason know xxx
gugibufugi: @Tom_In_Oz_ @marcuswhitney1 I can vouch for that, it was awesome. He's lookin good. :-)
The honey giveth and the honey taketh…
TheHoneyTaker: I'm at Middlesbrough Station
Tom_In_Oz_: @TheHoneyTaker on tunnel patrol...did I just make a funny?
TheHoneyTaker: @Tom_In_Oz_ you did actually lol
JacK_da_cub: #ff @russelltovey @TheHoneyTaker @Tom_In_Oz_
Tom_In_Oz_: @JacK_da_cub @russelltovey @TheHoneyTaker AM SO PLEASED TO BE HERE. WHAT AN EXCLUSIVE GROUP THIS IS...Tom x
JacK_da_cub: @Tom_In_Oz_ hahaha well u deserve it x.
A really outstanding #FF
Lionesskeeper: #FF @bbcbeinghuman @bbcredbutton @patrickbratin15 @russelltovey @sineadkeenan @extreme_fishing @michaelsocha @tom_in_oz_
Tom_In_Oz_: @Lionesskeeper @bbcbeinghuman @bbcredbutton @patrickbratin15 @russelltovey @sineadkeenan @extreme_fishing @michaelsocha A truly wonderful list 2 B on, Tom
PatrickBratin15: @Lionesskeeper Wow, thank you! A #FF along side #Beinghuman greats, and @Tom_In_Oz_ of course!
Tom_In_Oz_: @PatrickBratin15 Oh, sssshhh Patrick....you'll go far xx
PatrickBratin15: @Tom_In_Oz_ Haha thank you :) xx
-a few mins later-
Tom_In_Oz_: @PatrickBratin15 Just letting you know you have been blogged for the very first time!
PatrickBratin15: @Tom_In_Oz_ Awww wow! I made it onto the @russelltovey blog! Brilliant! Thank you! :D
Tom_In_Oz_: @PatrickBratin15 @russelltovey you will be able to brag for weeks...years even! x
PatrickBratin15: @Tom_In_Oz_ @russelltovey Don't worry I will! x
My handiwork isn't going unnoticed!
Charliecondou: The winner of my Comic Relief Twitter superfollow is the very generous @chris_Berwick I'm following him now. You should too
frankolad: @Tom_In_Oz_ @Charliecondou I see Charlie is using your avatar !!
Tom_In_Oz_: @frankolad @Charliecondou without sounding like I'm bragging, I think the new avatar goes a long way to making Charlie seem rather stylish x
Sneak peek at Corrie's Antony Cotton and Charlie Condou reunited as soap's first gay parents
By JODY THOMPSON
29th March 2011
He's been sadly missed since he left the cobbles - and these shots show the heartwarming return of Coronation Street's Marcus Dent playing happy families with his former boyfriend Sean Tully.
The scenes were filmed today in Primrose Hill, North London.
As previously reported, the pair will become the soap's first ever gay parents after 35-year-old Antony - who plays Corrie's Sean Tully - bumps into ex Marcus Dent, played by Charlie Condou.
Happy families: Charlie Condou, left, who plays Marcus Dent, returns to Coronation Street in scenes filmed today in London's Primrose Hill

A source on the show said: 'There's a chance older viewers will be shocked by the storyline, so we will handle things very sensitively.'
Sean became father to his friend Violet Wilson's baby after he donated his sperm, and hospital worker Marcus was Violet's midwife.
But Violet said she didn't want Sean to have an active role in Dylan's life and caused Sean heartbreak when she moved with their son to London.
In the scenes which were shot yesterday in the capital, Sean is seen going to visit Violet and little Dylan, who's now three - where he then bumps into Marcus.
In some shots, Antony is seen with a huge teddy bear ready to give the boy - and in other joyful shots, seen swinging the young lad down the street.
Charlie, 38, joined the soap in September 2007, but left a year later in August 2008 when his character split with Sean.
Since then, he has become a father in real life with his Canadian partner of six years, Dr Cameron Laux.
They have a beautiful 18-month-old daughter, Georgia Mae.
Charlie's return to Coronation Street meanwhile will be screened over Easter.
NB. If you would like to discover more about Charlie and Anthony they have numerous mentions on this blog. Just type their names into the search facility.
Below: Set of pictures, taken from deleted scenes, from Being Human season three.