RUDE HAMSTER FINDS RUSSELL'S NUTS WHILE TOVEY IS IN SPAIN LOOKING FOR...?
rudehamster: @russelltovey I have found a shop in canary wharf selling almond m&ms. Also sells coconut ones!! Wanna know more?
russelltovey: @rudehamster yes!!!!! Pray tell more x
rudehamster: @russelltovey looks like a newsagent, but is filled full of American, Canadian and Australian sweets. What a fucking find!! Xxx
rudehamster: @russelltovey well...there is a walk-through between the bars in west India quay to the cinema. Bottom floor, shop called 'hot stuff'
rudehamster: @russelltovey You know West India Quay and the cineworld?
russelltovey: @rudehamster thank you!!!! :-) x
rudehamster: @russelltovey actually its called 'hot news II', just walked past it again.
rudehamster: @russelltovey It's my pleasure. Just let me know when you've munched through them. Never seen a shop outside US to do the full range. Xx
...AND SPEAKING OF BABIES THE CONGRATS ARE STILL COMING IN FOR MY GRANDDAUGHTER...
hughbon: @Confidential_CC Congrats!
Confidential_CC: @hughbon thanks Hugh....I am the proudest Pa that ever walked this Earth x
New York 2006 at the Tonys
James Corden, Russell Tovey and T.R. Knight share a joke.
Sacha Dhawan and Sara Gettelfinger pose with Russell Tovey.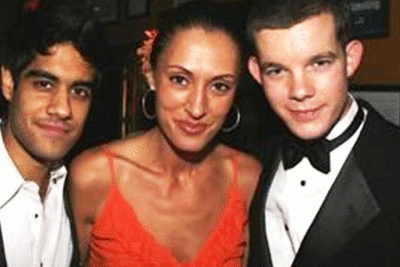 Below: Russell Tovey being George in Being Human.
Jackshalloo: Who thinks nandos is basically the best thing ever? Lol
AWOLTom: @jackshalloo Russell Tovey in the UK but we do have them in Oz! We had them first ya know!!! foodfranchise.net.au/chicken-franch…
Jackshalloo: @AWOLTom ha jelous!
AWOLTom: @jackshalloo did u actually read the big list of venues at the bottom of the web page...our local one is 2 stories high and seats 300 people.
http://franchise.nandos.com.au/locations/nando%E2%80%99s-tuggerah
Jackshalloo: @AWOLTom I think you've made it up .
AWOLTom: @jackshalloo do the Nandos company sell their sauces in shops like in Oz BTW??? chillies-down-under.com/chilli-sauce-r…
Jackshalloo: @AWOLTom of course!
...It's nice to know that the BBC iPlayer team are Re-Tweeting the Tovey Blog....
Below: Ralf Little & Russell Tovey at the Louder Lounge, V Festival 2011.
Julie_Atherton: Must.open.eyes.
Tom_In_Oz_: @Julie_Atherton Have you talked to Paul Spicer about what we are doing? If not you should!! "Stage wife" lol
Julie_Atherton: @Tom_In_Oz_ not yet! I've been up to my eyeballs in sisteract rehearsals! X
Tom_In_Oz_: @Julie_Atherton OK sweetness now go back to sleep x Uncle Tom says "sleeeeeep"..................zzzzzzzzzzzzzzzz
BETTING STATS ON GEORGE MICHAEL'S NEXT BOYFRIEND AUG 2011
http://www.paddypower.com/
Sunday 28th August 2011
Single men only,
Applies to George Michael's next permanent boyfriend, as confirmed by both parties, after 23rd Aug 2011,


Duncan James 20/1
Russell Tovey 25/1
Rupert Everett 25/1
Joe McElderry 33/1
Will Young 33/1
Jake Shears 33/1
Matt Lucas 40/1
Russell T Davies 40/1
Graham Norton 40/1
Stephen Fry 40/1
Dale Winton 40/1
Marc Almond 40/1
Scott Mills 40/1
Andy Bell 50/1
Simon Amstell 50/1
Derren Brown 50/1
Gok Wan 50/1
John Barrowman 50/1
Boy George 66/1
Kieron Richardson 66/1
Ricky Martin 66/1
Michael Stipe 66/1
Alan Cumming 80/1
Evan Davis 80/1
Adam Lambert 80/1
Ian McKellen 100/1
Elton John 100/1
David Furnish 100/1
Hampstead Heath Toilet Attendant 1000/1
Snappy Snaps Shop Attendant 1000/1
TMarkstahler: @Tom_In_Oz_ Prince Edward (Earl of Wessex) 50/1... Marcus Bachmann 80/1...
TMarkstahler: @Tom_In_Oz_ I've just placed a bet on Liza Minelli. It's 1/1500, but I'm sooo going to win. I'll be rich... RICH... R-I-C-H!!!
Tom_In_Oz_: @TMarkstahler well she has married 2 gay men so far who x
TMarkstahler: @Tom_In_Oz_ That's why it's a slam dunk! Wait... "she"??? ... You mean Liza Minelli is a woman? Did the other guys know that?
Tom_In_Oz_: @TMarkstahler Probably not - they were possibly too busy loving themselves sick to notice x
____________________________________
QUEENZ
TomasThorndike: @russelltovey i heard that u got turned away from queenz last night.
NB."Queenz" is a night spot in Sitges Barcelona Spain click link: http://www.gaysitgesguide.com/bars/queenz-bar.html
HOT OR NOT
Here are some extremely rare snaps of Russell Tovey in New York during the run of The History Boys circa 2006. This was during the period where Russell's fashion sense seems to have deserted him.
You make up your own mind...Hot or not?
HRWright: @Tom_In_Oz_ HOT, of course!;-)
Goslingsawagrin: @Tom_In_Oz_ when his hair is short no. I wish he would grow it out a little longer.
WhoGuru: @Tom_In_Oz_ Are you kidding? Those check shorts? That denim jacket!? LOL He's smokin! Hardly looks out of place in NY anyway. X
Helz0409: @Tom_In_Oz_ Russell Tovey is definitely hot! Geek sheek all the way!!
mikeyh1965: @russelltovey Good to see you in Sitges tonight. Including wearing the cap in XXL
Click link to read more about what the XXL club in Sitges has to offer:
http://gaysitgesguide.com/serendipity/2008/02/14/xxl-and-bourbons/
TMarkstahler:@Tom_In_Oz_ Is the XXL Club a club for members with oversized members? **ATTENTION: MIND ENTERING GUTTER!!! MIND ENTERING GUTTER!!!**
Tom_In_Oz_: @TMarkstahler Tom in Germany I don't know if there is a size requirement but I'm sure you and I would be safe *wink*
TMarkstahler: @Tom_In_Oz_ ;-)
BoyVirginiaMade: @russelltovey "@Nandos_Official: Nando's in Woolwich has reopened, Brixton having a full refurb and is due to reopen early October"
Tom_In_Oz_: @BoyVirginiaMade @russelltovey @Nandos_Official it's that age old question...which came first the chicken or the Nando's???
BoyVirginiaMade: @Tom_In_Oz_ lol. Well in Brixton, I'm sure the chicken came first and Nandos protected it, until the riots.