TUESDAY KNIGHT
SPOTTED AT BLOOMSBURY
Jo_West85: At Bloomsbury Theatre with @gillinghamjoe . Also @russelltovey and @THEKERRYHOWARD are here!!!! And less excitng, @ahoyhayes
awritepalaver: @russelltovey Hi Toves! *waves* Can't wait to see Dan. I mean, @gillinghamjoe :D
SQUIRT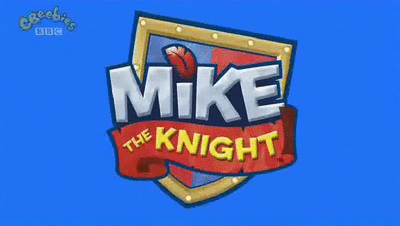 Russell Tovey is currently the voice of Squirt in "Mike The Knight" (the little dragon on the left) and is soon to appear in Aardman Studio's "Pirates" movie where he plays the albino pirate.
PIECES OF 8
PeteLordAardman: Just when you thought the thrilling countdown tension was over - - - VFX gets in on the act!
PeteLordAardman: A shame that I failed to tweet about the amazing Wrap Party last weekend - could have given a detailed account of my dancing.
Tom_In_Oz_: @PeteLordAardman never too late ya know
BULLSEYE

Tom_In_Oz_: @BullseyeTVshow still waiting for you guys to follow me....so I can spread the word that you are making a comeback!
BullseyeTVshow: @Tom_In_Oz_ We are now! Thank you for the reminder :) Remember, you can't beat a bit of Bully! #Bullseye
BullseyeTVshow: Please vote for #Bullseye & Cult Classics on a new Challenge TV poll, via this link:challenge.co.uk/news/cult-clas… Super, Smashing, Great!
Tom_In_Oz_: @BullseyeTVshow off to RT your message at my other twitter names @AWOLTom @Confidential_CC @RussTov_FanSite
SNIPS & SNAILS & TOVEY TAILS
russelltovey: I just eat a snail... It was a first... I can tick that off now x
russelltovey: Had my bum photographed all this morning for contemporary artist Daniel Sinsel... Image may arrive soon x
JamesMarsh1974: @russelltovey Wide angle lens? *ducks*
russelltovey: Ellen Altfest at White Cube gallery Hoxton is extraordinary... Such detail and skill... Check it out #culturears x
limptiger: @russelltovey your bum and snails, it's all getting too much for me :))
russelltovey: Oh yeah... Hold up! Word to my wittys... Tonight 10.30 BBC3 #himandher episode 6 if it pleases x
russelltovey: #culturears Great 'Catherine Story' art review... http://t.co/t2q5Zdx1 x
markscottwood: @russelltovey Ooh! Are you a big Catherine Story fan? Love her plaster sculptures.
russelltovey: @markscottwood huge fan of the Catherine Story x
markscottwood: @russelltovey I shall make it my business to get my art peepers down to Carl Freedman a.s.a.p. to soak up some new Story's.
russelltovey: @markscottwood perfick... Get your crew on it x
turn her prize
MatthewCainC4: And here's special treat for my twin @russelltovey- photo of me + his favourite nominee Karla Black #turnerprize yfrog.com/obaw8fkj
russelltovey: @MatthewCainC4 i love it!!! I love you x
THE PLAY'S THE THING
russelltovey: Crisp and bright... Nostalgia weather x
mrchrissullivan: Great night at chicago's in Chelmsford with @russelltovey and @hollieN26- old school reunion!
russelltovey: @mrchrissullivan big time x
mrchrissullivan: @russelltovey regretting the onion rings at midnight - I think the other passengers in the packed tube did too!! He he!!
russelltovey: @mrchrissullivan rank x
russelltovey: Been reading opposite girls all day for new play I start rehearsing in Jan...There are a serious amount of talented Brit actress's around x
THEKERRYHOWARD: I love @russelltovey!!!!
russelltovey: @THEKERRYHOWARD :-) x