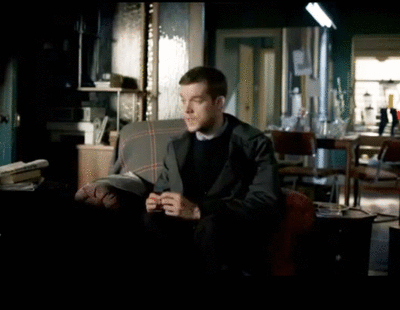 TOVEY AT THE SHERLOCK PUB
A village pub in South Wales will feature in the latest episode of hit BBC series Sherlock to be aired tomorrow night. The Bush Inn, a 16th Century thatched-roof pub in St Hilary, near Cowbridge, will form the backdrop of part the series' second episode. Stars including Benedict Cumberbatch, who plays Sherlock, and Martin Freeman, playing Watson, filmed scenes at the picturesque public house.
Actor Russell Tovey, from BBC Three drama Being Human, dropped by for a guest appearance, while co-writer Steven Moffat attended to oversee the production.
"They were lovely, very charming and very respectful, which was really nice," said pub owner Liz Silva-Hooker[cor], who took over the pub with her 43-year-old husband Andrew about a year and a half ago.
Liz hopes their quaint pub's TV appearance will drum up some extra business from fans of the show.
"That would be fantastic," said the 41-year-old."We were told by the producers that we may have some interested punters because there's so many Sherlock fans."
Scenes for the hour-and-a-half-long programme were filmed at the pub over the course of a week in mid-May last year.
Liz said: "Because they said they were looking at a couple of other places we didn't really think much of it."It all sort of happened really quickly. Our main thing was not to upset the customers." She added: "Obviously we were excited – we thought it would be quite a nice week but it was hard bloody work to be honest, making sure everything was ready for them."
The new episode, The Hounds of Baskerville, sees Sherlock and Watson investigate the truth about a monstrous creature stalking Dartmoor after it apparently killed their client's father. The pub was renamed Cross Keys for the programme, and pictures hanging on the walls inside were switched to shots of the Devon moors.
"Our restaurant was used as a studio, with all the cameras and monitors," said Liz. "We could see how they did all the takes and everything, which was really lovely." She added: Obviously they had spent a lot of time working towards this, so it was nice to see it all in action and how it all works."
Despite the hubbub of activity, the couple managed to keep their pub open for most of the week. After the filming, the production team made a £500 donation to the village, which the community have decided to use on improving the Roman Road, a walkway between St Hilary and Cowbridge. The Hounds of Baskerville, produced by Hartswood films and BBC Wales drama, airs on BBC One on Sunday 8-1-2012 at 8.30pm.
TONIGHT THE UK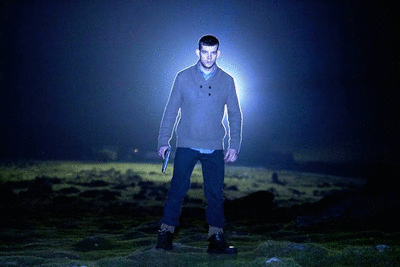 Sunday 8th January 2012 Russell Tovey will be a guest star on Sherlock S.2 Ep.2. He plays Sir Henry Knight. This character was called Sir Henry Baskerville in the original Conan-Doyle novel The Hound of the Baskervilles. This new episode of Sherlock is creatively titled Hounds of Baskerville with a decided change on the plurality of the words.
Russell Tovey has described his upcoming guest role on BBC One's Sherlock as "amazing".

"It's amazing to be a part of it, I think a lot of people are anticipating it because it's one of the most well-known of Sir Arthur Conan Doyle's stories, so there's quite a lot of pressure on it and hopefully it delivers the goods! The beauty of Sherlock is that it's completely loyal to the style and tone of the books, but there's this juxtaposition of old and new," he said. "What is so exiting about the show is that balance and the quirky reinterpretation of it all."


Press play to see a short promotional clip.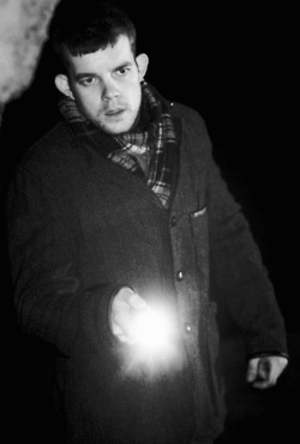 russelltovey: I've woken up really happy today!!! Maybe I'm still drunk but I feel proper lucky to have all you lot following my waffle x Big Cheers x
russelltovey: So my loyal band of Wittys... Tonight on BBC1 at 8.30 is a show called #sherlock in which i will be giving my best beard... You in? X
Dollie80: @russelltovey Sherlock!? ...I look forward to 'Mike The Knight' every morning!
russelltovey: @Dollie80 :-) x x
JasonMaza: Guys it's Sherlock tonight BBC1 & it's featuring @russelltovey ... You know it makes sense
russelltovey: @JasonMaza Thanks Jason mate x :-)
MatthewCainC4: Flippin eck! Melvyn Bragg just called to say how much he enjoyed last night's What Makes a Masterpiece. Think I'll bounce through day now!
russelltovey: @MatthewCainC4 My twin!!! :-) x
russelltovey: Spot the difference.... x
ActuallyLilu: I can't watch @russelltovey in Sherlock tonight :( No BBC in Indonesia. *sighs* I really wish he would tweet me or something... xx
russelltovey: @ActuallyLilu In the words of Mumford and Sons.. Sigh no more x
russelltovey: Can one have too many eggs.. I think i know the answer is yes.. But can one? x
Bennielawrence: I have a new nickname as of last night 1 courtesy of a certain person @russelltovey which is Mr Sparkles
stuarthalton: @russelltovey hmmm I have them every other day so that nice. In other news, the party last night was jolly wasn't it...?
tmxghost: @russelltovey honestly I don't think you can eat too many eggs Mr. T Very much looking forward to #Sherlock tonight too. Hope you're well.
russelltovey: @tmxghost all good here mate.. Hope you're good ryanna x
katypegg: Sherlock tonight with @missgembles who is in love with Benedict Cumberbatch and I just adore @russelltovey so it's a win win situation!
russelltovey: @katypegg I adore you too ;-) x
russelltovey: RT @hollycocker: @russelltovey Hey Russell, My Birthday Shook the World has an air date - 21/3/12, BBC1, 1630. Don't forget to tell everyone to watch :) x
Below:
Click Trend Map to enlarge.
The following picture is a Twitter record of Charlie Condou's birthday held the night of the 7th January 2012 UK, which time-wise, was the 8th January in Australia. Russell Tovey, Matt Cain, Boyd Hilton and various other friends of Mr Tovey's attended this event. You can see the tweets on the preceding post which also has a link to Mr Condou's record of the party. Condou had numerous Coronation Street actors as guests. Not only did Mr. Condou's party trend but the other Twitter names I use to distribute pictures and information trended as well.
2 EXCERPTS FROM
THE MAKING OF
Sex With A Stranger
.
Below:
Click and enlarge information sheet re the play

Sex With A Stranger which opens in early 2012 at the Trafalgar Studios London.
RUSSELL TOVEY & KYLIE MINOGUE HOLD RECORD
by MICHAEL HINMAN, posted Dec-26-2011
"Doctor Who" is still a Christmas tradition in the United Kingdom, but definitely not as much as it used to be.
"The Doctor, the Widow and the Wardrobe," which guest-starred popular character actress Claire Skinner, captured just 8.9 million viewers, according to preliminary figures released by the BBC. While that may have made it the third most-watched program in Britain on Christmas Day, it shows a definite decline in Christmas specials for the franchise in recent years. Although the numbers are still early and are subject to change, the latest "Doctor Who" outing finished 27 percent behind last year's "A Christmas Carol" with Harry Potter's Michael Gambon. The audience was 11 percent smaller than those who tuned in to see David Tennant's penultimate episode "The End of Time" in 2009.
The best Christmas outing for "Doctor Who" was 2007's "Voyage of the Damned" that featured singer Kylie Minogue and Russell Tovey of "Being Human" fame. The smallest audience before "The Doctor, the Widow and the Wardrobe" aired was "Runaway Bride" with Catherine Tate, which pulled in 9.3 million viewers in 2006.