Tin Tin in Tibet
TIN TIN IN TIBET
played in the West End London during the pantomime season at the end of 2006. Below is the clip of some of the production starring Russell Tovey as Tin Tin
starbler_: russell tovey as tintin = perf.
edwardclarke: @Tom_In_Oz_ I went to see that (many) years ago! :-) Before Tovey was Tovey :-P
Tom_In_Oz_: @edwardclarke was it memorable then? Or just a panto?
edwardclarke: @Tom_In_Oz_ No, it was excellent. At the Barbican, no less. My little nephew freaked out at the crash scene, though :-(
Tom_In_Oz_: @edwardclarke so did Toves dazzle you with his choreography and movement (I won't call it dancing)
edwardclarke: @Tom_In_Oz_ We all thought he was excellent!
I also saw him in History Boys and His Dark Materials - obviously I was a fan before I knew I was a fan!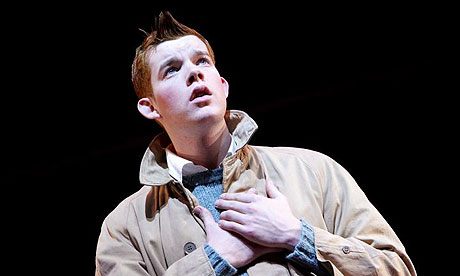 OFF TO CHARLIE CONDOU'S BIRTHDAY PARTY
Dan_Connacher: Just been to see the Little Compton Street sign through the grate in Charing Cross Road. It's very cool @russelltovey
russelltovey: @Dan_Connacher awesome!! It's crazy right??? X
derek_leitch: @russelltovey just bought my ticket for SWAS - coming from Glasgow to see it. Any good pubs near the Trafalgar studios?
russelltovey: @derek_leitch soho? Leicester square lots? Two v near theatre x
LukeDavidWebb: @russelltovey Me and my friend asked for a photo of you when you came out of a tuxedo shop! haha we was so nervous!
iGeoffers: Russell Tovey is 2ft away. Blooming lovely he is too
That made my night being a foot away from the lovely @russelltovey . I'm way too shy to interrupt his eve and say hello though!
baptrimble:
Oh, also saw @russelltovey at Waterloo. Got caught off guard, so only managed a half sort of confused wave. Sorry.
MatthewCainC4:
@Charliecondou Don't worry, I'm coming to your party! And am really excited about it!
LATER THAT SAME EVENING
russelltovey: @boydhilton pissing... X
SineadKeenan: @boydhilton @russelltovey Hot! X
boydhilton: @SineadKeenan @russelltovey hot right? x
SineadKeenan: @boydhilton Über Hot! X
davemorrissey64:
@russelltovey @boydhilton Why does he have a drop leaf table in there with him?
MatthewCainC4:
Am being very neglectful on Twitter + out at a party! x
boydhilton:
@davemorrissey64 @russelltovey it's just how I roll
Tom_In_Oz_:
@boydhilton @russelltovey Boyd was expecting a rude table joke from @davemorrissey64 about your flaps being down x
russelltovey:
Drinking thru the jet lag... X
boydhilton: @Charliecondou awesome work, Charlie. Thanks. x
russelltovey: Soooooo ready for bed... Night wittys... From your very jet slagged mate... :-) yawn x
If you would like to read and see more of the news of Charlie Condou's 39
th
birthday click to visit my other blog HERE