Above:
The suave and urbane Mr Tovey as we know him.
russelltovey: Landed... Queuing to go through border control... It's like some developing country!! All that's missing is some goats x
88tickets: @russelltovey woo hoo! welcome back GB!
fitness39: welcome home @russelltovey hope you'v had a good time? X
Stuartlsaunders: Landed from a 15 hour shift from Japansville ... Brightened up by meeting @MatthewCainC4 and @russelltovey ... Now, I make it wine o'clock!
russelltovey: @Stuartlsaunders following... Thanks for the booze x :-)
Stuartlsaunders: @russelltovey man of your word, like it!! It was an absolute pleasure! :-) x
idhToronto: oh my - spose we won't be able to talk to @Stuartlsaunders now that he knows @russelltovey
Stuartlsaunders: @idhToronto @russelltovey oh yeah, best mates forever! Lol ... Don't worry Ian, I won't forget my Twitter roots! Happy new year xx
ruthie5661: @russelltovey hi russell is the actress who plays laura in him and her russell howards sister,shes brilliant i could strangle her lol xx
russelltovey: @ruthie5661 yes @THEKERRYHOWARD x
MatthewCainC4: Here are my holiday highlights... Watching Jessica Hynes in sitcom '2012' on flight over there, seeing Mount Fiji from hotel bedroom...
Discovering charmingly chaotic city of Tokyo, meeting so many friendly Japanese people + stuffing our faces on their gorgeous food...
Celebrating New Year's Eve in bar of Lost in Translation hotel Park Hyatt, making wishes in temples + exploring geisha quarter in Kyoto...
Watching Ed Watson dance Raymonda with Miyako Yoshida and seeing Ed mobbed by his Japanese fans, then all of us singing karaoke afterwards..
Final holiday highlight - asking maid to let me into room on first day, falling asleep in bed then realising it was someone else's room!
russelltovey: Does anyone know where I can buy this Ralph Lauren hoodie? X
russelltovey: @jackbremer Good man! x
jackbremer: @russelltovey Found it! :-P @foxylorri 64 Out of stock tho :( Polo Ralph Lauren Beacon Full-Zip Fleece Hoodie http://t.co/oSHqDZ4a

Brashtastic: @russelltovey why do u want that?its got no neon on it!
russelltovey: @Brashtastic Hhahaha x x
Above:
The not so suave George Sands.
£££££££££££££££

ஜ

ஜ
۩۞۩
ஜ
ஜ
£££££££££££££££
JACK SHALLOO
£££££££££££££££

ஜ

ஜ
۩۞۩
ஜ

ஜ

£££££££££££££££
It's the 2012 return of the ever-popular segment 'Five Quick Questions!' This is a segment featuring friends and associates of Russell Tovey.
Recently I did an article for Russell Tovey's former drama teacher
Patricia Ledwith
(one of the Tovey Blog's Famous Five). In the article I made mention of the fact that she was also the drama coach for TV host Andy Day and singer/actor
Jack Shalloo.
I asked Jack recently if he had time to participate in this segment and he kindly said yes although he is currently very busy and in negotiations for a new show.
Get set! Ready! Go!
1. When did you first decide showbiz was what you wanted to do? Why?
I started as a kid and it all went from there...I think when I was a teenager and started watching more stuff it really confirmed it for me. Making people happy and making people feel something seemed amazing to me so I wanted to do it all the time
2. When did you turn professional and get your fist paying gig? How old etc? Did you have parents that wanted you to do something else etc..
My 1st professional job was at 7 years old in 'Cabaret"…I played a little Nazi boy who sang 'Tomorrow Belongs to Me' - had a Swastika and everything! My parents have always stuck by me and supported…There's been a fee times where they would prefer me to earn proper money but they get it!
3. If you hadn't made it in showbiz was there anything else you may have wanted to try? Why?
I always wanted to be a policeman... I think just because I watched 'The Bill' and found it exciting...lol! I probably would have been terrible at it…I'm not tough enough and wouldn't have done the paperwork!
4. What's your biggest professional and private achievement to date?
I think writing and producing my own solo album has been a real achievement for me…I'm very proud of it and really happy with the response it's had…it's something that I'll have forever and hopefully will continue to be listened too.
5. What do you hope 2012 holds for you professionally and personally?
I hope that career-wise it all goes up a notch with more TV and film work...I'd also like to get some of my own writing off the ground. And my personal life well…I don't have time for that…CAREER CAREER CAREER!!
Below:
Jack Shalloo (left) in the production of 'Goodbye Barcelona' at the Arcola Theatre London.
REVIEWS OF
GOODBYE BARCELONA
Which ran from 24th November to 23rd December 2011
"fervently sung and warmly felt"

OBSERVER
"a triumphant work of tender love...The songs, chiselled to perfection, mix pathos with innocence and political reasoning with trench humour...We really care for this disparate bunch of brave idealists"

MORNING STAR
"The staging is clever, the performances uniformly strong"

DAILY EXPRESS
"stirring anthems"

LONDON EVENING STANDARD
"Karen Rabinowitz's production has plenty of punch" GUARDIAN
"The score is nicely assembled in Karen Rabinowitz's impressive dynamic production"

SUNDAY TIMES
"an engrossing and frequently moving evening...believable and moving"

THEATRE GUIDE
"a rousing and emotional reflection on this era of history" N16 Magazine
"strong anthemic ballads"

THE PUBLIC REVIEWS
"weaving its tale with beautiful harmonies and passionate solos...a show that stirs emotions, fine singing throughout...You cannot fail to be impressed with the sheer talent and enthusiasm of the actors"

EAST END LIFE
Below: Press play to see an interview backstage with Jack Shalloo and Raphael Sowole two of the stars from the 2011 Stratford East stage production of 'A Clockwork Orange.'
Above:
Jack performing in his younger days.
Below: Jacks' current CD which you can buy at Amazon.
Above:
Jack in his smash hit Hamlet the Musical
Below: Three pictures of Jack Shalloo in Departure Lounge. The cast recording CD is available through Amazon.
BACK FOR CAIN'S BASKERVILLE PARTY THIS WEEKEND
russelltovey: Leaving Tokyo behind... Looking 2012 in the face... And ass x
Sazinat0r: @russelltovey did you leave your heart in Tokyo?
russelltovey: @Sazinat0r nah x my singing voice maybe but not my heart x
Kezz_RTvey_ESxB: @russelltovey Yaaay :D means your be proper back on twitter :') missed the witty tweets :D ;) x
mrchrissullivan: @russelltovey geek- hurry home GB! X
russelltovey: @mrchrissullivan team gb is gonna be reunited ASAP x
mrchrissullivan: @russelltovey can't wait! May die of exhaustion in the meantime - double tomorrow - DM me your land time x
guy_interruptd: @russelltovey I miss seeing your faces move. An evening of song, merriment and me laughing at the state of you both awaits @mrchrissullivan
russelltovey: @guy_interruptd :-) x
elliotjbrown: @russelltovey straight into rehearsals?
russelltovey: @elliotjbro Monday :-) x
jldomini: @russelltovey @markgatiss RELEASE THE HOUNDS!
alidanbrooks: @Tom_In_Oz_ Really looking forward to Sherlock on Sunday, all involved have done a great job.


Sherlock
Episode 2.02
The Hounds Of Baskerville
Sunday 8 January, 8.30-10.00pm, BBC ONE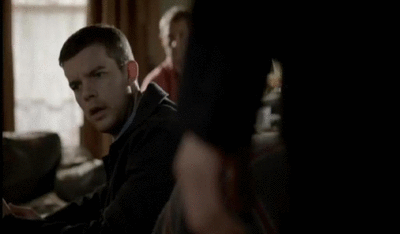 Sherlock's most famous case.
Something terrible has happened to Henry Knight (Russell Tovey). Sherlock and John investigate the truth about the monstrous creature which apparently killed their client's father. But what seems like fantasy in Baker Street is a very different prospect in the ultra-secret army base located in Dartmoor…
Sounds pretty scary, no?
It'll be interesting to see how Sherlock tackles such an iconically scary story. We do know that Russell Tovey will appear as Sir Henry Knight, who will likely take the place of Sir Henry Baskerville from the original novel. Andrew Scott will also reprise his role as the flamboyant villain Moriarty in the episode.
Benedict Cumberbatch returns as Sherlock Holmes, with Martin Freeman as John Watson, Mark Gatiss as Mycroft, Rupert Graves as Inspector Lestrade, Una Stubbs as Mrs Hudson, Louise Brealey as Molly Hooper and of course Russell Tovey as Henry Knight.
Russell can you tell us a bit about your guest role in Series 2 of Sherlock?
RT:
"Ah, what can I tell you about Sherlock? It's amazing to be a part of it; I'm in the second episode. It's called The Hounds of Baskerville and I play a character called Sir Henry Knight. I get to act with Benedict and Martin which was awesome. We did about two and a half weeks of night shoots in Cardiff and I felt like I had jetlag! It's going to be very good.
"I think a lot of people are anticipating it because it's one of the most well-known of Sir Arthur Conan Doyle's stories, so there's quite a lot of pressure on it and hopefully it delivers the goods!"
Has the story been updated with a modern twist?
RT:
"Yeah, completely, a completely modern twist. The beauty of Sherlock is that it's completely loyal to the style and tone of the books, but there's this juxtaposition of old and new. That's what is so exiting about the show is that balance and the quirky reinterpretation of it all."
Would you say it's quite a scary episode?
RT:
"Yeah, yeah, yeah – big time scary! It's about a hound. Hounds are scary!"
Press play to see the BBC official trailer for this episode: