Above:
Click to enlarge and read Radio Times article
SHERLOCK IT'S ELEMENTARY
russelltovy: RT @Sherlockology: Our SPOILER FREE review of #Sherlock S2E2 - The Hounds of Baskerville tmblr.co/ZDnwQxEIjd5o
katieeary: @russelltovey meee! tres excited Tovey! XXX
russelltovey: @katieeary :-) x x
russelltovey: Who's seen the movie 'Another earth?' I completely and utterly loved it!! A defo must watch from me x
russelltovey: @SawLady it was incredible!!!!! You are very gifted :-) x
russelltovey: RT @GrabbersMovie The Movie Grabbers makes Dark Horizons' Notable Films of 2012.
Grabbers
Opens: 2012
Cast: Richard Coyle, Ruth Bradley, Russell Tovey, Lalor Roddy, David Pearse
Director: Jon Wright
Analysis:
A fun low-budget Irish indie sci-fi monster movie set on an island off the coast, this is pure creature feature - think "Waking Ned Devine" meets "Deep Rising" with eccentric characters, lewd jokes, dead whales, decapitated fishermen and Lovecraftian squid monsters.
"Prince of Persia" star Coyle plays a small town alcoholic cop who joins forces with his straight-laced colleague (Bradley) in a battle to protect the local community from the "tentacled, fang-jawed, barb-tongued creatures' from the deep known as Grabbers".
The only survivor was someone whose blood alcohol level was so high he was literally toxic to the creatures, so the entire village has to get as pissed as possible to survive the night, except for Coyle's character who'll have to be sober for the first time in years.
The cast is mostly unknowns aside from that sexy hunk and much loved "Being Human" and "Little Dorrit" favourite Russell Tovey. The Sundance Film Festival obviously liked the look of it as well, scheduling it for the Park City at Midnight section.
WARNING:
My aim is not to offend or discourage fans from enjoying this site. The following picture may offend. If you wish for it to be withdrawn please leave a request in the "comments" box.
A FAKE NUDE SENT TO RUSSELL
sebsw:
@russelltovey not gonna lie, this looks a LOT like you. It isn't, right?
russelltovey:
@sebsw yes it's me... ;-)
BREAKING NEWS 5-1-2012
Above: A not very up-to-date piece of journalism from today's Western Mail. This is cutting edge Welsh journalism - NOT! Russell has been out for about 17 years!
JET
SET
S
LAG
russelltovey: Today I am feeling a combination of jet lag and sexy x
JamesEllis66: RUSSELL - you are now following me on twitter! i think you are like my second follower....i've not managed to tweet anything yet. x
russelltovey: @JamesEllis66 well start tweeting PJ.. And get a photo up! I also still have Ben's penguin coat x
mattycurry: @peacockpete @russelltovey I was thinking Jet Slag.
russelltovey: Jet slag... I like that abbreviation x :-)
russelltovey: Who is gonna be watching Sherlock this Sunday?? X
Tom_in_Oz_: @russelltovey In all honesty I can say I WILL NOT SEE SHERLOCK THIS SUNDAY - will have to wait until Monday in Oz!!!!!
MikeyJGall: @russelltovey i very much will just to see your handsome face! Happy New Year Big Balls! x
joooos1: @russelltovey Me! Totally obsessed with #Sherlock. Have been since series 1. Added bonus that you're in it.
MatthewCainC4: Trying to write blog post but being distracted by my little princess. Here she is, a bit over-excited to have me home
Below: Click map to enlarge.


With all the talk about Russell being in the upcoming episode of Sherlock his name Twitter trended in England, Italy and Indonesia. Meanwhile two of my Twitter names were trending in Oz for the same reason.
EARLY DAYS FOR TOVEY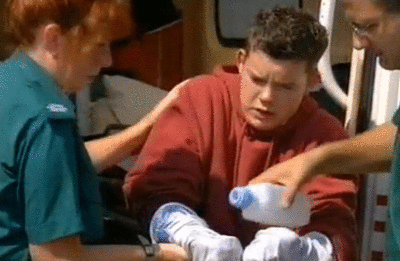 Kieran Elcott sets fire to a garden shed. His father tries to take the blame. There is a bigger story unleashed about the use of drugs amongst the staff at Sun Hill Police Station. Russell Tovey plays Kieran Elcott in this episode.
Press play and enjoy all 5 segments of this episode which has never been transferred to DVD.
News of poor sick Ozziebear filtered through to Croydon London in a very roundabout way. Crème de la Hamster who lived with Mark M. Merrett, wasn't exactly a gossip but he spent many hours on the phone every night. In fact, sometimes he'd run up enormous bills to chat-lines from around the world. Mark had a lot of explaining to do to his parents about some of the numbers that appeared on their phone bills. But Mark always assured his parents it was Crème and not him! *wink*
Crème was on the phone one night and heard that Ozzie was very ill. Crème got the news off some Berlin chat-line at a place called "German Leather Bondage Hamsters." They had heard via other people, that friend and London expatiate Ozziebear, was very sick with bear flu.
On hearing the news, Crème gathered his buddies Sonic and Drogonite for a quick three-way on the floor in the hall...
It wasn't long before the animals made their plan to send Ozzie a message of love and good wishes. But holding the pens to write the message was going to be a difficult challenge.
It was Crème who suddenly realised his leather bonds would finally come in handy!!!
And before long the three of them had prepared a lovely message to send to Oz.
All they had to do now was wait for Mark to help fax it. But they waited for ages as Mark was on the phone to some chat-line in Thailand…