russelltovey: RT @Joviblu04: @russelltovey #helptobias Tobias Fiddimore,12 yr old terminally ill boy has a wish to go 2 Dr Who set. BBC say no due 2H&S.Please RT to help
erinhaslanded: @russelltovey Ok, help me out please! Him and Her trailer. What does the guy say after "I've got a girlfriend"? Driving me mad!
russelltovey: @erinhaslanded "Anita took me back" x
Mjas09: @russelltovey Enjoyed your intiview in fabolous mate
russelltovey: @Mjas09 not read it yet but ta mate x
russelltovey: Jimmy Saville dead? This is crazy... :-(
SirRoundSound: @russelltovey Yet nobody can spell his last name still ;)
Foxfontaine: Having been such a grumpy bastard about it, I'm actually now quite looking forward to my birthday thang tomorrow.
Foxfontaine: @russelltovey I lost your number in the great iPhone suicide of 2011 having bday drinks in Camden tomorrow. I've text your sis the details c
Foxfontaine: @boydhilton I lost your number in the great iPhone suicide I'd 2011. I'm having birthday drinks in Camden tomorrow. Do pop in x
russelltovey: @Foxfontaine sounds hot x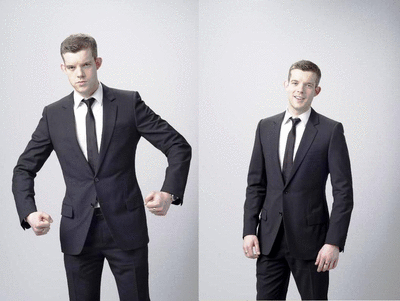 HE'S BACK


GemmyKuhnights: Just met @russelltovey, holiday complete.
russelltovey: @GemmyKuhnights :-) you just met a seriously jetlagged @russelltovey x
GemmyKuhnights: @russelltovey it was a lovely experience all the same :) The 39 other girls that swarmed you say a massive THANK-YOU for the photos! X
russelltovey: @GemmyKuhnights You are very welcome x
russelltovey: RT @TheStage: We meet Stefan Golaszewski, the writer of @bbc3tv comedy Him and Her (starring @russelltovey and @Solemani) http://t.co/sfIVr86V
loveyouloadsxXx: Just met @Russelltovey in the airport, and i didnt want to leave Italy! I'll upload a pic of us tomoz!!
loveyouloadsxXx: @russelltovey I got a pic of us in the airport looking jetlagged;) follow back please??? x
mazamaza: Omg I just spotted @russelltovey in airport absalutely in shock love him :)x
mazamaza: Still in mega shock I saw @russelltovey at airport was to shy to go up to him x
mazamaza: Would lovee a retweet or a reply from @russelltovey after meeting him todayyy :)
russelltovey: RT @NosheenIqbal: Russell Tovey. What do you reckon, then? *canvassing public opinion ahead of tomorrow's interview face*
NosheenIqbal: @russelltovey HA! Amazing. What do you reckon, then?
MatthewCainC4: My twin @russelltovey is home in Nelly Park! I can't wait to see him for a cuddle and our little girl is purring with excitement too!
russelltovey: Lydia's mum Debbie has had her teeth whitened right? #towie x
ijoeallen: @russelltovey and her arsehole.
Confidential_CC: @russelltovey and this is big news because...? Can they now watch TV from her glowing dentures?
AllanAuld: @russelltovey Lydia's mum is a dog! #saidwithlovingkindness

RockCock: @russelltovey @debbietowie is the best
russelltovey: @RockCock love her x
boydhilton: @russelltovey welcome home dude. I miss LA too and I haven't even just flown back from there. xx
russelltovey: @boydhilton innit tho x it's so hot x
boydhilton: @russelltovey it's the hottest. So so hot. x
Confidential_CC: @boydhilton @russelltovey it's just like Queensland Oz, only with more queens...
MarkMMerrett: @cleehay @Tom_In_Oz_ @tmarkstahler I pretty much worship @russelltovey, like drawing (done some for Tom's blog) and blokes ;-)
cleehay: @MarkMMerrett @tom_in_oz_ @tmarkstahler @russelltovey hehe ALL fun things! :-)
leo_richardson: Welcome home @russelltovey come and see my new abode next week? X
russelltovey: @leo_richardson week after maybe better hunny x
Below: Click to enlarge Twitter Trend Map